Dodging COVID-19 (with video)
Campus Californians hoping to see favorite team win local World Series
Since Oct. 20, GlobeLife Field in Arlington has been filled with swinging bats, shouting fans and good vibes. 
But most importantly, competition. 
The 2020 World Series is taking place at Globe Life Field in Arlington after Major League Baseball decided on creating a semi-bubble format for this year's postseason to limit travel in attempt to prevent a potential COVID-19 outbreak. This would be the first world series played entirely in a neutral venue since the Cardinals vs. Browns series in 1944. 
Having such a series in Arlington provides an unexpected opportunity for many transplanted Texans to cheer their teams on in person. The National League champion Los Angeles Dodgers are taking on the American League champion Tampa Bay Rays.  
"It is definitely cool having them play the World Series right here in our own backyard," Coppell AP Literature teacher and Dodgers fan Matthew Bowden said. "They played an hour away from my entire childhood, so it's nice to have them back, if only for a few weeks."
With the Dodgers having been to two of the last three World Series, losing to the Houston Astros in 2017 and the Boston Red Sox in 2018, Bowden, born and raised in California, is provided with a rare opportunity to root for his home team in his new home.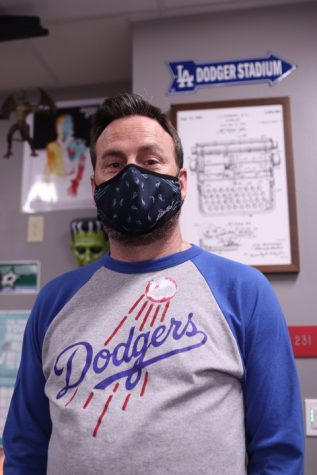 "I have been a Dodgers fan from birth," Bowden said. "I'm a big sports fanatic, but I am first and foremost a Dodgers fan. I take Dodgers baseball more seriously than any other sport."
CHS junior Ethan Frieder moved to Coppell from Los Angeles, bringing his love of the Dodgers with him to the Lone Star State. Frieder is hoping to see the Dodgers win a World Series after losing in 2017 when it was discovered that the Astros were stealing signs from Dodgers' pitchers.
"All of America let out a sigh of relief when the Astros lost [against the Rays]," CHS junior Ethan Frieder said. "As a Dodgers fan, nothing makes me more mad than to see the team that cheated us almost get back to that big stage. It would have been nice to get revenge, but they don't deserve to even be in the playoffs."
The city of Los Angeles has already been blessed with one major championship this year, with the Los Angeles Lakers winning the NBA championship in the Orlando bubble this year. Frieder, an LA sports fanatic thinks the Dodgers win this World Series, it will compensate for the losses they have faced during the year. 
The Dodgers are seeking their first World Series title since 1988.
"It would be huge," Frieder said. "The Dodgers have been in a long drought, so this would be like this would be like adding on to the end of a bad year for LA and it's like a bright point for 2020 for Los Angeles." 
Coppell High School English II teacher Mariah Sanchez is also rooting for the Dodgers, as it makes up an important part of her childhood. 
"I was born and raised in Southern California," Sanchez said. "My family and I grew up watching and going to Dodger games. The games are some of my fondest memories as a child."
Though she won't be attending any of the games, she will still be supporting her hometown from the comfort of her home. 
"I think it is awesome that they are playing at the new stadium (Globe Life Field)," Sanchez said. "I also love that my two worlds, California and Texas, are coming together to celebrate the game of baseball."
Follow Sreeja (@sreejamudumby) and @SidekickSports on Twitter