Seniors reflect on past four years
By Rebecca Fowler
Staff Writer
It has finally come. The caps will be flying and parents will be crying on June 6, as over 700 seniors walk the stage and graduate from Coppell High School.
It is both an exciting and sentimental time, filled with many mixed emotions about starting fresh while also leaving something precious behind. While seniors are anxiously awaiting the start of their new lives, at the end of this journey, they are taking time to glance in the rear-view mirror and reminisce on the unforgettable moments they have experienced at CHS over the past four years.
The Best Moments
"One of my favorite moments in high school was when I went to the playoff game in the new Dallas Cowboys stadium and shot T-shirts into the stands with the T-shirt gun," Zachary Slayter said.
"I loved the football game against Marcus senior year. The stands were packed, and it was awesome," Sean Chalk said.
The Craziest Moments
"I remember being in lunch and all of a sudden a senior with a mask on decided to streak through A lunch, then jumped in the back of a truck. I didn't expect anything like that to happen in Coppell," Audrey Bauer said.
"My junior year, I walked out of class and there were seniors playing Guitar Hero in the hallway. It was so crazy." Shelby Crow said.
The United Moments
"I remember when we beat Southlake my junior year. I don't think I've ever been to a louder or more exciting football game before," Shelby Samuels said.
"Shattered Dreams was a really moving experience. Imagining people close to me not being there was strange and very enlightening," Navya Singirikonda said.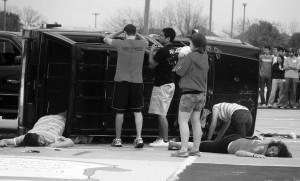 The Moments We'll Never Forget
"It was really funny seeing Waldo show up at our panoramic picture and then get taken away by Mr. Bagley," Prapti Pathak said.
"I will never forget when Ms. Caussey tackled me to the ground freshman year," Shaelyn Macedonio said. "It was all in fun, though, and I don't even remember how or why it happened."
"I will never forget when the Dallas Cowboys came to practice on our field. I'm a huge fan, and I was able to talk to Miles Austin," Cameron Slayter said.
Coppell High School seniors have gone through much in four years. From football games and pep rallies to funny classroom experiences and senior pranks, they have seen it all. And with all these unforgettable moments come memories that will last a lifetime.