Back on course
Rios undeterred in golf after heart surgery
Injuries and health conditions can be one of the worst obstacles athletes can face.
Coppell junior golfer Lauren Rios found out she had a heart murmur during her spring sports physical in May 2019. It was later diagnosed as an atrial septal defect (ASD).
"They didn't know that was the exact problem at the physical," Rios said. "They just heard a heart murmur. I was like OK, it's where a lot of people have that, it's probably fine. I didn't want to think negatively [about] it." 
An atrial septal defect is a hole in the wall (septum) between two of the upper chambers (atria) of the heart. It is a condition present at birth and some people do not show symptoms until they are older. Rios was told she could not compete until she was cleared by a cardiologist and that she needed to have surgery to get back to the course again. 
Rios did not need to be operated on immediately, but deciding when to have surgery was tough. Golf season is almost all year long, and sophomore and junior year is a big recruiting time for golf. In the end, Rios and her parents, Janet and Carlos Rios, decided to undergo the procedure in December, the offseason.
"[The surgery] was kind of a guessing game up until the last minute because there [were] two different types of procedures they could have done," Lauren said. "When I first got there for the surgery, they still didn't know which one they were doing. They had to do a special type of echo that goes down the esophagus because they couldn't see the posterior view very well, [which] got an actual vision of how big the hole actually was. That's why they went with [open heart surgery]."
After the surgery, Lauren remained in the hospital for about four days to recover before she was allowed back home. However, she was not fully cleared and could not play golf until Feb.1. Open heart surgery takes time to recover from and she was cleared to play slowly, step by step, starting with the simple things like putting before graduating to a full swing.
"Since it was December, playing golf [in the winter] was really difficult. It's really cold and windy so I was glad I [was] missing this part of the season, but it was quite different just coming home from school every day and not doing anything," Lauren said.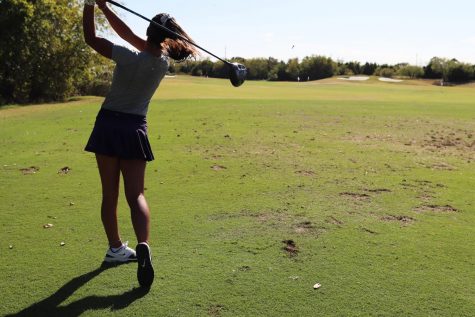 Lauren describes her recovery being easier than she expected, and because of that, she never felt negative or hopeless during her time off of the course, especially since she had friends and family by her side.
"She's extraordinary," Coppell senior golfer Jamie Welsh said. "She's the hardest working person I know. Watching her practice and watching how she acted, took care of her body, took care of academics, working out constantly and putting so much time in everything that she does- it was really special to watch."
When Lauren was finally cleared, she played well. Heart surgery and all, she was giving it her best. She does not think the heart surgery has any effect on her performance.
"She was there as long as she was allowed to go on the course," Welsh said. "She came back for our first tournament and shot 70 which is outrageous for a girl who has been playing golf now for two months, not playing tournament golf. She's just a miracle. It was incredible. Of course, her desire to succeed pushed her to become the best athlete [she could] be despite having open heart surgery two months prior."
Swing coach Bruce Smith agrees with the impressiveness of her comeback.
"I'm sure she was scared about how quickly she was going to be able to get back to the level of competition she was at before she [had the] surgery," Smith said. "And she has [come back]. She's jumped right back in there and with no setbacks [along the way]. That's probably more attributable to how well she keeps her body in shape more than anything else."
Lauren was always very active. She started playing golf at age 5. She did both gymnastics and golf growing up, and got into competitive gymnastics. However, she decided to quit gymnastics and pursue golf instead.
"I loved golf a lot more, there's so much more opportunity," Rios said. 
She plans on playing golf through college, having already committed to playing for the University of Texas at San Antonio.
"She's on a journey that has a long road," Smith said. "I urge her to focus more on the journey rather than the destination, and not forget to look around, but she's a wonderful person in every aspect of her life."
Follow Iniya (@iniya_v) and @SidekickSports on Twitter.