Biodiversity Education Center prevails despite COVID-19 challenges by remodeling programs
Although COVID-19 has restricted the activity of many organizations, the Coppell Biodiversity Education Center (BEC) continues to thrive during this unprecedented time. 
The primary mission of the BEC is to promote environmental awareness and educate Coppell residents on local flora and fauna in North Texas by partnering with other programs, including the Coppell Nature Park and Keep Coppell Beautiful. The BEC is located at 367 Freeport Parkway in Coppell, Texas. 
Despite the challenges BEC faced when COVID-19 first hit Coppell, they have managed to rework their programs, including Eco Explorer, and trail days, in order to fit the current situation. 
"The [BEC] building was closed back in March and through the end of May," BEC coordinator Maura Reed said. "In that time, we were discussing how we can rework some of our programs. Through collaborative brainstorming, we came up with EcoExplorer kits and Nature Adventure Packs." 
The EcoExplorer program, mainly directed toward elementary students, involves a kit containing themed educational materials and DIY activities, such as booklets and printouts, for kids to complete along the trails of the Coppell Nature Parks or at home. Some of the themes include water, geology and birds .
"Before COVID-19, we would have EcoExplorer visitor hours, where people would come to our facility, explore in our rooms with hands-on materials and learn about the theme of the week," Reed said. "What we've done instead is that we turned that into a little to-go kit. Instead of coming in, we have a drive thru window in which we can safely hand them their little bag." 
The BEC also started trail days in the Coppell Nature Park which accommodates social distancing protocols.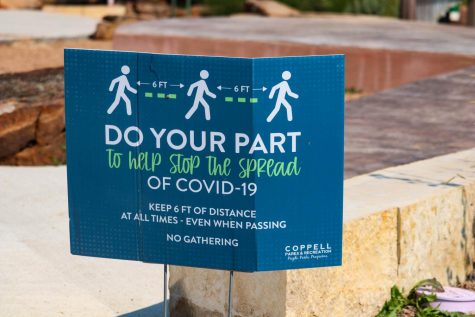 "Before COVID-19, we had a program called Wild Days, in which people would come into our education hall from table to table to learn about the theme," Reed said."Now what we do is we have a couple stations out on our trails. [We can] enjoy being outdoors and still learn about the theme but in a much safer capacity." 
However, the BEC has also faced several challenges, particularly since the start of the 2020-21 school year. Remote learning and stricter safety protocols on campus have limited many of the activities that the BEC was able to do before, such as field trips. 
"We normally offer field trips and rentals to non-profits, but we haven't been able to do those," Reed says. "We were created for Coppell ISD schools and it's just unfortunate that we haven't been able to provide them with field trips."
Despite these challenges, as these new programs have been implemented, BEC has seen positive feedback and results from these changes. With trail days, the BEC had not seen a decrease in numbers and for EcoExplorer kits, they had seen a steep increase in numbers. 
"Since June 2, we've had over 1,300 visitors, which is just mind blowing, just for EcoExplorer," Reed said. 
Another organization the BEC works with is Keep Coppell Beautiful, remodeled to include the Keep Coppell Beautiful teen committee  (KCB teens). This group of high school students dedicate their time toward educating the Coppell community and teaching them ways they can be environmentally friendly. 
Coppell High School senior Mahima Quazi is a former KCB teen committee member.
"I really liked [KCB teens] because it taught me things about myself and I was able to learn a lot about interacting with others," Quazi said. "It made me more interested in the environment, and I am a senior, so this year I am applying to college, with my major as environmental science. The Biodiversity Center has really helped me develop my interest and gave me hands-on experience."
KCB teens are also in the process of carrying out a scavenger hunt event for the Coppell community. However, it may not go as they originally planned because they must plan everything over email and expect possible obstacles and delays. 
"We are planning to do a scavenger hunt event which would have stations across the trails," said KCB teen committee member Isabelle Ortigoza, a junior at CHS.  "It will be more complicated now because you can't really be near people but we also can't have unmanned stations. The logistics of everything is hard. It's really different because it can't be as interactive as we hoped." 
To overcome these barriers, the committee has tailored the program to maintain safety measures. 
"A lot of the stuff we do is outside, and the trails are pretty wide," Ortigoza said. "We [will] have people at separate ends and [we will] explain to them what the station is."
Similar to Quazi, Ortigoza has gained meaningful leadership experience through KCB teens and the BEC.
"I've learned how to interact with all types of people," Ortigoza said. "It's really fun to go out and help the community."
Follow Drishti @drishti_gupta_and @CHSCampusNews on Twitter.