Homecoming redefined
Liggins returns to Coppell from Guyer
Red. White. Black. 
Though it had been less than a year since senior wide receiver KJ Liggins had played football, it was the first time putting on a Coppell uniform since his sophomore year. 
He was home. 
Liggins had spent his junior year at Denton Guyer, culminating in a state-runner up finish with a 24-0 loss to Austin Westlake. By the beginning of spring break, he knew he was coming back. 
"Coppell, it's more love, and there's not that many politics," Liggins said. "Right here, it's just all love, and I feel a lot of that in Coppell."
Having moved to Coppell the summer before eighth grade, Liggins began forming relationships with teammates and making a name for himself at a young age. 
"I was watching [a scrimmage at Coppell Middle School North]," Coppell coach Michael DeWitt said. "I had just walked up, I had just been there a few minutes, and I knew who he was but hadn't seen him play yet. He was playing safety on defense, and he came downhill and made a great tackle, a physical tackle. He certainly stuck out on the field with the rest of the middle school kids. I remember thinking 'he's got a chance to be special'."
Buddy Echols Field had been Liggins' home away from home since he entered high school.
"
I have to make it special because it's my senior year. With all this pandemic going on, I definitely have to make it special.
— senior wide receiver KJ Liggins
"As a player on the field, he was always very gifted, especially as a younger player, and you could tell even when he was in middle school that he was going to be a really good player," DeWitt said. "As a freshman, we had several needs, so we put him on the varsity and he was a guy who started several games for us as safety. He ran back a kickoff for a touchdown against Skyline, and those were some moments you realized he was going to be special." 
A fruitful freshman year brought six offers from various colleges, including Arkansas, Georgia, Mississippi State, Texas A&M, SMU and Syracuse. However, Liggins' football career took a hit when he was injured his sophomore year. The Monday following the first game of the season, he tore his left ACL during practice, taking him out for the rest of the season. 
"He always stayed positive and always stayed upbeat," KJ's father, Keith Liggins, said. "To see him work in rehab where a lot of people didn't see – he rehabbed three times a day. It was tough; you watch your kid from age 5 playing that game and really playing well. To see him excel year by year and then to see a year [where] you know how passionate he was and how much he loved it [and then] to not be able to do something he loved, it was tough, truly." 
Described by KJ as the lowest point in his football career, the ACL injury cost him both fall and spring football that year. A surgery and many months later, he was able to practice again when summer hit. 
However, he would not be playing for Coppell again just yet. He moved to Denton Guyer for his junior year before returning for the final season of his high school career.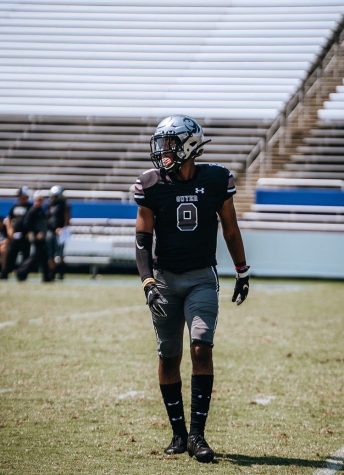 Moving was nothing new to KJ. 
Born in Chicago, moving to Indianapolis and returning to Chicago before coming to Coppell the summer before eighth grade meant adapting to a new environment was learned from a young age. The transition from Guyer to Coppell has been smooth, as KJ did not lose the bonds he built with his teammates while at a different school.   
"He maintained his relationships with his peers that he went to middle school with and his first two years at Coppell in high school," Mr. Liggins said. "He's always maintained those friendships and relationships, and that's something I've always instilled in him as a little kid – the importance of relationships."
For Coppell junior wide receiver Anthony Black, a relationship began as soon as KJ arrived. Having both attended CMSN, Black saw KJ's magnetic personality from the very beginning. 
"He did a pretty good job of meeting people and fitting in," Black said. "He was a really good athlete. Once he came, he started fitting in with all the athletes, and eventually, he was just a part of everybody, he was fitting in with everybody." 
KJ and Black, now playing the same position on the same team, better each other during practice with a bit of internal competition. 
"He plays really hard and he's fast," Black said. "He's good at catching the ball and getting up the field and making moves around the defenders trying to tackle him."
As an upperclassman, KJ sees a reversal of the roles played in the team dynamic from his last full season with Coppell.
"I used to be a baby, but now I'm an older guy; I get to teach and be a leader of the team, so it feels good," KJ said. "I have to make it special because it's my senior year. With all this pandemic going on, I definitely have to make it special."
Donning his Coppell uniform again, KJ will take the field playing multiple positions, including wide receiver and safety. 
"He's going to be a guy we're really going to lean on both sides of the ball," DeWitt said. "He would be similar to the player [current Stanford safety and CHS 2019 graduate] Jonathan McGill was. He played just about every snap; if he's not tired, then he's going to be on the field. That's the kind of player we expect him to be this year."
Follow Sally (@SParampottil) and @SidekickSports on Twitter.