Coppell Serves making most of North Texas Giving Day
Today, the Coppell Arts Center is hosting multiple live streams throughout the day to shed light about the nonprofit organizations that have played a fundamental role in how Coppell operates. 
This year for North Texas Giving Day, Coppell Serves has partnered with the Coppell Arts Center to bring different organizations in Coppell together and spread awareness about them.
"North Texas Giving Day is passion, commitment and community," Co-founder of Coppell Serves Bethany Henze said. "It's difficult to get the word out about small, local organizations. North Texas Giving Day is a great opportunity to cross pollinate. It's not just about making money or the fundraiser, it's about letting people know who you are, what you are and your mission."
North Texas Giving Day began more than a decade ago by Communities Foundation of Texas, a nonprofit organization that organizes other non-profits. The annual event sets aside one day of giving where members of the community can donate until midnight.
"A saying that guides me is, 'alone we go faster, together we go farther'," Coppell Serves co-founder Adrienne Morton said.  "As organizations, we can accomplish a lot individually, but since we are all working towards the same goal, it makes sense for us to support each other and work together."
Donations and volunteers are vital to the success of nonprofit organizations. These donations allow it to have the funds to fulfill its mission.
"I don't think [Coppell] could have the  community that we have without our volunteer base," Henze said.
Due to COVID-19, the event is not  in person. However, with some creative thinking, Coppell Serves has set up a livestream at 7am, 12pm and 9pm. that showcases the 14 different organizations.
The livestream consists of Coppell Arts Center Director Alex Hargis interviewing every organization that has participated this year, a ballet performance and important information that allows the viewer to get to know the organizations.
"The world may still be changing around us, but the one thing that stays the same is the mission of the non profits that you love and the financial support they need to fulfill it," Hargis said in the livestream. "That's why we are asking you to give what you can during this critical year."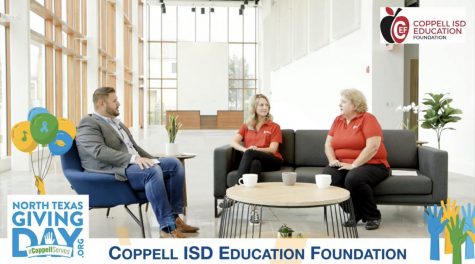 Behind the scenes of Coppell, organizations that are often overlooked are making the city beautiful. They provide economic stability and contribute to services that are important to Coppell. They are the backbone and the voice of the citizens of Coppell.
"We can't wait to see the reactions of the organizations," Morton said. "Each organization should be so proud of themselves because they work hard all year long. I'm really excited about [North Texas Giving Day] and I want them to feel good about it."
Nonprofits put in the work to make their cities healthy and beautiful.
"There was a hole in the community and we were willing to address that need," Morton said. "Nonprofits recognize that if they want something done then they need to get it done, which is the driving force."
According to Henze, nonprofits don't have the monetary incentive that motivates them to put in so much time and effort, so oftentimes people volunteer because they are passionate about the people.
"The emphasis on nonprofits is that no one is here to make money, they are there to give and serve and contribute with their passion," Henze said.
There are three ways to watch, on the Coppell Arts Center website, on the Coppell Arts Center Facebook page or on Coppell Serves website, where members of the community will also be able to donate to any organization of their choice.
"There are so many ways to volunteer in the city, so many pockets that if we could connect all of it together with our nonprofits, our community, our way of life would be elevated," Henze said. "We've served, we've helped, we've entertained and we've done what we said we were going to do."
Follow Sapna (@sapnaamin6) and @CHSCampusNews on Twitter.