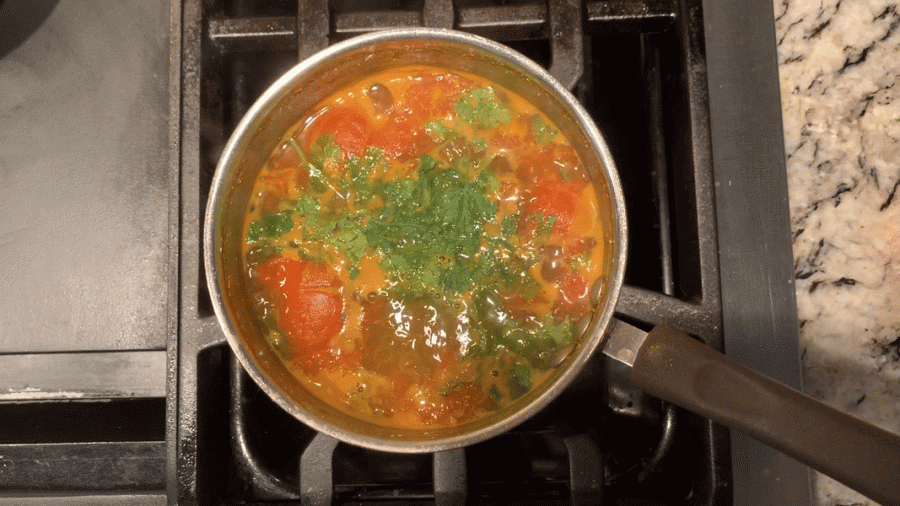 Chaaru
When I was younger, I would sit near my mother's feet on my Winnie the Pooh blanket and cradle her steel spice box. Inside were small, circular bowls filled to the brim with different spices in an explosion of burgundy, red and orange.
My family took that steel box and made wonders out of it. We would take a spoonful of chili powder, a pinch of salt, a pinch of cumin seeds and make something new every day. It tasted of too much spice and the sunny Indian weather my parents grew up in. 
To this day, my mother pulls out her steel spice box and creates an entire meal out of it, cooking on instinct and taste to make something tangy, mouthwatering and unique to our family. Chaaru is always a family favorite. Simple, flavorful and comforting, the soup remains a staple in many South Indian households. Below is the recipe for chaaru, but it is not set in stone. For us, food is something that reflects you so do not be afraid to put your own spin on it. 
Cooking time: 20 minutes 
Serves 3-4 
Ingredients: 
⅓ cup fresh cilantro, chopped 

6 individual curry leaves

2 large tomatoes on the vine

1 ½  tablespoon chaaru powder (spice mix)

¼ cup pigeon peas 

1 cup coriander seeds 

¼ teaspoon fenugreek seeds

1 teaspoon black pepper

¾ teaspoon cumin seeds 

Kosher salt to taste 

⅛ teaspoon asafoetida 

⅛ teaspoon turmeric 

1500 mL of water
Instructions: 
Pour 1500 mL [about 6 ⅓ cups] water into a vessel and set on the stove at medium heat. 

Chop tomatoes and add to simmering water. 

When water begins to lightly boil, add turmeric, chaaru powder and split boil together for eight to 10 minutes. 

Once the water, tomato and spice mixture is boiling, lower heat and add asafoetida, curry leaves and chopped coriander. 

Once everything appears tender and well-boiled, emanating a flavorful scent, turn off the heat and let the chaaru sit for five minutes. Serve hot either plain or with a plate of freshly cooked white rice.  
Follow Akhila (@akhila_gunturu) and @CHSCampusNews on Twitter.