Passion for cars driving Bartlett's engineering dreams forward
On March 4, Coppell High School held its first-ever adulting day, a day where students were able to learn real-life skills they might have missed out on. 
While some students who took the car-maintenance workshop went home that day knowing how to change a tire, Coppell High School senior Ben Bartlett went home to work on the "thing," a former go-kart faster than many standard cars, something a little more advanced than applying wheel wedges.  
"The idea was to build a go-kart with a bigger motor, but I ended up buying a motor six times the size of what could fit and now it's roughly 25 times the power of a normal go-kart," Bartlett said. "When I started working on it, I realized I didn't want to be doing 170 mph in a standard go-kart so I continued to work on it for three and a half years now."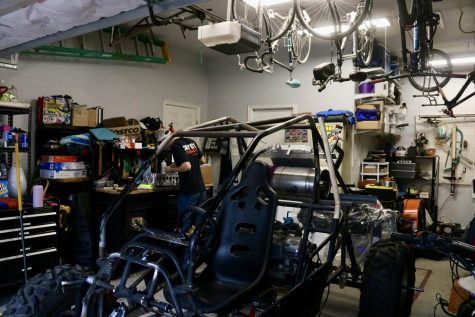 Bartlett's passion for fixing cars arose during his freshman year when he helped his friend Jonah Gehrlein, a 2018 CHS graduate, lift his Nissa Xterra.
"That was the first time I worked on a car but he was already into cars at that point so he took me under his wing," Bartlett said.
Bartlett and Gehrlein now both work at Fleet Maintenance at Lillard Lawn and Landscape where they do maintenance for vehicles while also flipping cars.
"We've been friends and worked together for about four years now," Gehrlein said. "I met him first when he rode up the Ace Hardware on a homemade electric bicycle. Working together was kind of natural, he just felt like my little brother and we worked so well together it just happened."
Though Bartlett will always have a soft spot for cars, he does not see his future career being car orientated.
"I would love to continue working on cars right after high school, but the reality is that it is very hard to get into a design position where you are making a decent amount of money and it ends up being mostly a desk job; I really want to be more hands-on," Bartlett said. "I want to work in the defense industry because there is a lot of similar concepts I could apply from what I have learned from cars."
CHS STEM teacher Michael Yakubovsky advises Bartlett to hold on to his curiosity in order to succeed in the engineering field. 
"The best advice I can give to Ben is the same I give to all of my learners, don't stop learning," Yakubovsky said. "The world is always advancing and changing. Keep pushing and learning new things. No one can know everything. There is always something new to learn to tackle the problems ahead of you."
Follow Nicolas (@nico_reyes19) and @CHSCampusNews on Twitter.