Karthikeyan exploring deep meanings with artwork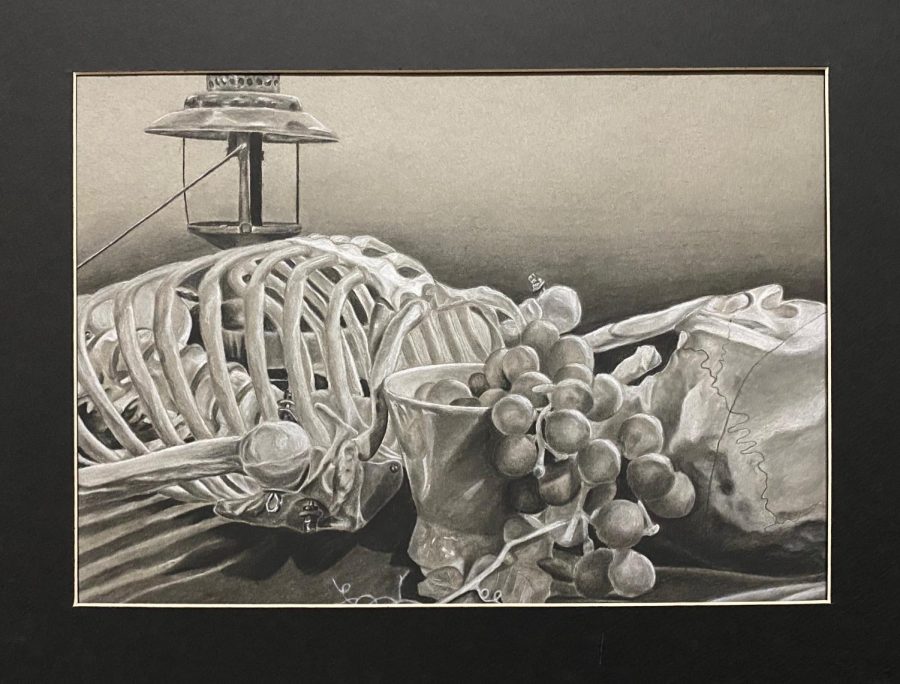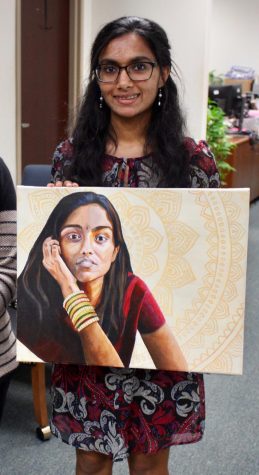 The barriers that artists struggle to break involve having people understand their art and spend time viewing it on a deeper level, getting to know the artwork and its meaning. 
Coppell High School AP Studio Drawing junior Varshni Karthikeyan opened up her email on a seemingly mundane February afternoon, only to discover that her drawing had been chosen to be displayed at the Young American Talent exhibition, a juried visual art competition for North Texas high school students.
In Karthikeyan's still-life piece, "Fruit of the Dead", a black-and-white charcoal skeleton lies behind a bowl of fruit, both alongside a dimmed lantern. Not only is the drawing hyper-detailed, but it has a profound underlying meaning. 
Her work is symbolic of life-and-death, the fruit represents life while the skeleton and turned-off lantern represent death. While Karthikeyan spent 10-15 hours working on her piece, she thoroughly enjoyed the creative process. 
"Whenever I'm doing art, especially if it is a piece that I like, I go into a zone where I'm just working," Karthikeyan said. "I would stay up a lot of nights working on it. I wouldn't even think about how late it was, or if I was tired. It was a lot of fun, relaxing and calming." 
Kathikeyan's journey with art began when she was in second grade and took classes at Falak Art Studio. Since then, she has participated in art classes at Coppell Middle School East and CHS every year. During the process of growing with art, she realized that she loved the depth of concentration she focuses with while creating.
 "I could always lose myself doing art," Karthikeyan said. "It is a great way for me to get away from the chaos of the world and get into a serene state of mind."
Karthikeyan has excelled in art since a young age, so much so that she has always stood out in class as a talented artist. Simultaneously, she has been a reliable friend and is eager to share ideas with peers. 
"She's been known as an amazing artist in class," junior Laya Kappagantula said. "I remember in middle school our art teacher always used to show her work and not other people's because she's so good at drawing what she sees perfectly."
Karthikeyan has not only proven to be an outstanding artist, but helps others who may be struggling at the same time. 
"She often goes out of her way to provide feedback and ideas to her classmates," CHS art teacher Michelle Hauske said. "Varshni is both caring and supportive of others and is always willing to help."
When others see her art, Karthikeyan hopes that they understand art has diversity because there are so many different types. In addition, art helps Karthikeyan express her feelings and she hopes that viewers will receive those emotions back when they observe her work. 
"Artwork doesn't have to technically be really good," Karthikeyan said. "A sphere doesn't have to look like a sphere; even if it looks like a ball, it's still considered art. Art is a feeling that is given off. When someone sees my artwork, I hope they appreciate it and have a good feeling when they look at it."
Karthikeyan enjoys developing ideas and deep meanings through art. Her focus this year is tying all of her work together into one theme: fate. 
"Where I have really seen her grow this year is in concept and meaning," Hauske said. "She is approaching her AP Drawing sustained investigation with a high level of maturity and refinement, which often involves a lot of research and experimentation with unusual materials. There is greater depth to the work she has created this year than in the past."
Karthikeyan is Hindu and her religious beliefs influence her perception of fate. However, she has been opened up to explore beyond her personal views to the way that others depict fate. Each of her seven pieces display a different view, from Newton's Laws of Motion to Law of Attraction. 
"The concepts that she explores in her art are very interesting, they're not things that are normally explored," Kappagantula said. "The way that she's executing her artwork with fate is really cool because she experiments in different mediums. She had one artwork where she took a magnet and had the filings come together to represent the Law of Attraction."
Karthikeyan enjoys taking art at school because she likes to interact with her art teachers and learn from her peers. Last year, taking AP Art History helped Karthikeyan become a more open-minded person. In the class, taught by Hauske, she studied modern art pieces that sold for lucrative amounts of money. 
"There is a lot of modern art work that we see and it is just a square on a canvas that sells for millions of dollars," Karthikeyan said. "People always wonder why. If you look at the meaning and reason why the artist created it, you can see that there is a lot more to it than what you see."
Karthikeyan also plays the Carnatic Violin (Classical Indian) and practices daily and attends lessons every week. In addition, she has been a member of Scouts BSA since her freshman year – not Girl Scouts, but Boy Scouts. 
"Her younger brother was in Boy Scouts in elementary school," Karthikeyan's mother Lavanya Sarma said. "Varshni started scouting by going to camp-outs with him and she really liked them. Before that, she did Venturing [coed scouting]."
Overall, Karthikeyan's work has spoken volumes on fate. As she grows into a mature artist, she continues incorporating deeper meanings into her pieces and investigating those of other works. 
"She pushes beyond her comfort zone and experiments with alternative mediums and processes, which often results in spectacular work," Hauske said. "She has used explored creative solutions to make that connection. Varshni puts so much thought and time into her work and that makes her unique."
Follow Victoria (@veh37936) and @CHSCampusNews on Twitter.
About the Contributor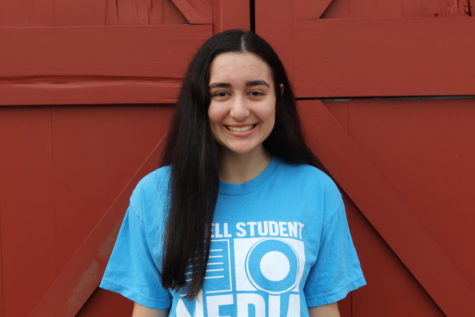 Victoria Hertel, Staff Writer
Victoria is a senior and the Student Life Editor on The Sidekick. Outside of school, she dances ballet at the Ballet Academy of Texas. She enjoys running,...