Dontula overcoming asthma diagnosis in the pool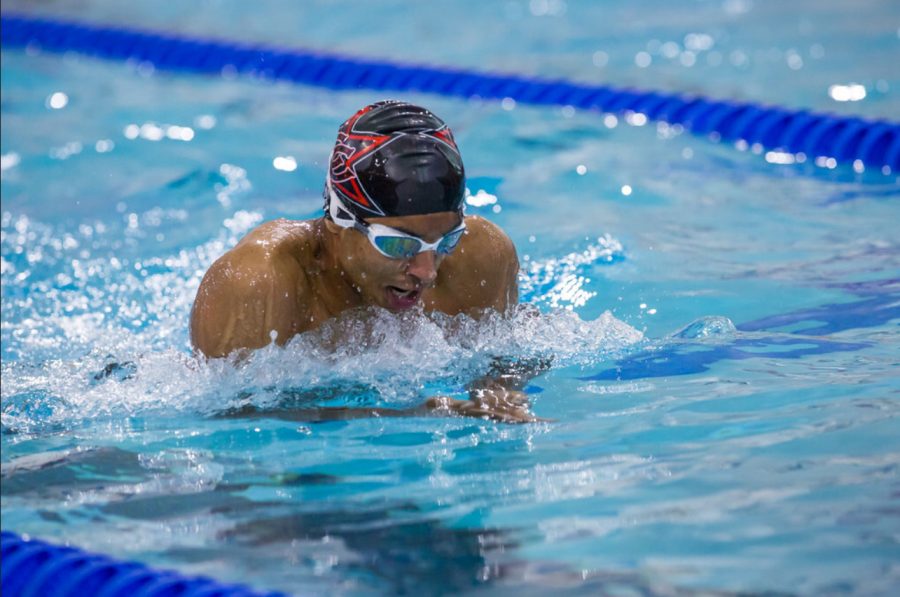 Tracy Tran, Staff Writer/Photographer
April 3, 2020
Surrounding himself in the water, the only thoughts in his mind are to keep breathing and getting to the next wall. Shortly after his finger touches the last wall, the timing clock for his lane stopped. 
Coppell senior Ritesh Dontula finished the boys 100-yard freestyle in 11th place with a time of 51.37 on Jan. 17 at the District 5-6A championships at the Lewisville ISD Westside Aquatic Center, his personal best for the event.
Consistently practicing for seven years,  Dontula started growing his love for swimming as an asthma-diagnosed fifth grader and eventually found himself nominated as the February Wingstop Athlete Scholar.
Since 2012, NBC DFW has given scholarships to athletes through its Wingstop Scholar Athlete of the month program. Each month, a student is selected and awarded $2,500 for his or her college tuition.
"I was pretty surprised at first," Dontula said. "I just kind of applied because I thought I would probably not get it, so when I first got it, I was really shocked and also excited at the same time. My parents found out about [February Wingstop High School Scholar Athlete] and they applied for me, so I wasn't fully involved in [the applying] process. They are also the best people who know me so they are able to fill out the information."
Dontula was diagnosed with asthma when he was in fifth grade. According to the Centers for Disease Control and Prevention (CDC), asthma is a long-term disease that affects people's lungs and airways and commonly brings breathing problems. About one in every 12 people in the U.S. have asthma and this amount of people increases every year. 
Swimming in warm and humid environments is one of the recommendations for asthma patients to improve their health
"I was diagnosed with asthma when I was small," Dontula said. "My doctor thought it would be a really great way for me to use physical exercise to combat this diagnosis. When I started swimming, it was very difficult, but eventually, I really came to like it and started to view it not only as something I need to do for my health but also something I can do for fun. Swimming is one of those sports that is extremely cardio and the fact that you utilize all of your body, every single muscle is burning, lungs are like fire, especially when you start trying to push yourself."
As a senior, Dontula was chosen as one of the swim captains by Coppell swim coach Marieke Mastebroek. According to Coppell junior swimmer Neil Upreti, with his humility and dedication, Dontula works with other teammates as a family.
"I support Ritesh by being positive and encouraging whenever he shares his goals or worries, and he does the same for me," Upreti said. "Additionally, Ritesh and I are very similar, so he gives me advice from his experiences as hindsight is 20/20."
Developing his techniques and enhancing skills through time, Dontula has been able to improve his time, from finishing the boys 100-yard freestyle with a time of 58.52 in at the Keller High School Invitational, to 51.37 as his personal best for 100-yard freestyle.
Mastebroek has coached Dontula for four years and has seen him develop as a swimmer by benefiting from his long arms and legs.
"He has really gotten into maximizing his swimming and getting close to the potential," Mastebroek said, "He is the kid who always works hard. Consistency is the key. People know he is a hard worker, a role model, does the right things and with that, can pull the team forward so [he was chosen as one of the swim captains]."
Being named as one of the 2020 National Merit Scholarship Semifinalists by the National Merit Scholarship Corporation, Dontula balances between his athletic life and academic life, aiming to become a doctor while also continuing swimming through a club team at college, where he remains undecided.
"Ritesh is a really hard worker, both at school and in the pool," Coppell freshman swimmer William Li said. "He trains hard for swimming but he also works really hard in his classes. Ritesh will become a great doctor in the future; his work ethic and personality really match what it takes to become a successful doctor."
Follow Tracy (@AnhImTracy) and @SidekickSports on Twitter.
About the Contributor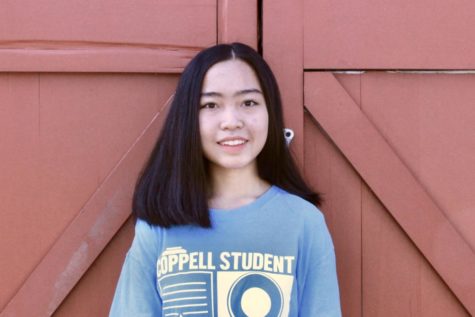 Tracy Tran, Staff Writer/Photographer
Tracy is a sophomore and a first-year writer on The Sidekick. She loves to travel, spend quality time with friends, take photos and try new foods. You...