Parlier, Patel extend tournament win-streak to three
The Coppell Breakout Tournament was played at the CHS Tennis Center throughout yesterday. In the home tournament, Coppell senior Clark Parlier and sophomore Vinay Patel continued their dominance with a first place finish in boys A doubles. 
"We came in as the No. 1 seed and had an expectation to hold," Patel said. "Staying intense, making sure we don't choke, and staying focused was behind our success."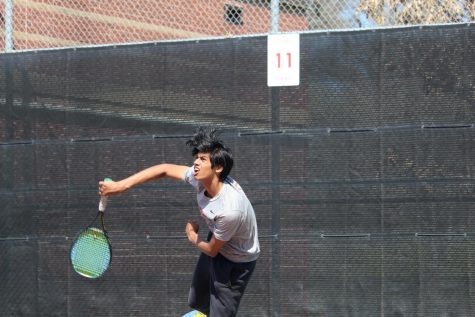 Parlier and Patel have won three consecutive tournaments, with the Keller and Midland tournaments preceding this win. Though Parlier and Patel have enjoyed plenty of success, they have not been playing together for as long as many other doubles teams.
"We decided we were going to play doubles in the spring and go out and destroy everybody," Patel said. "It takes some time to build chemistry but we knew from the start that we'd be a good match together and it only got better."
Though that was Coppell's only first place finish, sophomores Maruthi Eranki and Atharva Nijasure finished second in boys B doubles, seniors Devan Patel and Abirami Krishnamurthi finished second in mixed B doubles, senior Aishwarya Kannan finished third in girls A singles, sophomore Cason Cole and freshman Lakshana Parasuraman finished third in mixed A doubles and freshman Gabby Tian and junior Riya Reddy finished fourth in girls B doubles.
Overall, Coppell placed second in the tournament behind Lebanon Trail.
Coppell's next tournament is the Allen Eagle Invitational.
Follow Nicolas (@nico_reyes19) and @SidekickSports on Twitter.