First annual special education basketball event bringing smiles to many
Sydney Rowe, Staff Writer/Photographer
February 28, 2020
The Coppell High School large gym was bustling today with smiling faces and casual conversation as a large crowd anticipated the commencement of the first Special Olympics Skills Competition and Unified Games. Both middle school and high school special education students participated in ceremonies, skills camps and games.
The opening ceremony began around 10:15 a.m. and marked the beginning of the competitions. Each athlete paired up with two peer assist students and worked with them and teachers to compete in different basketball based tasks.
"We have skills such as dribbling, shooting, as well as how to dribble around cones, how fast they can dribble and how high they can shoot," CHS special education teacher Samantha Ost said. "This is to see how the skills that our kids are learning are advancing."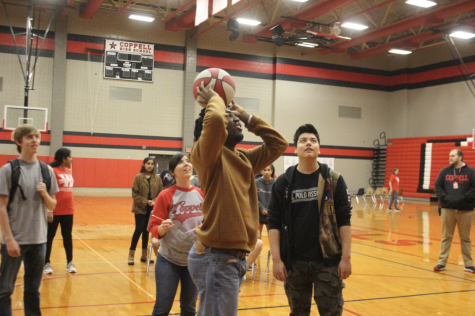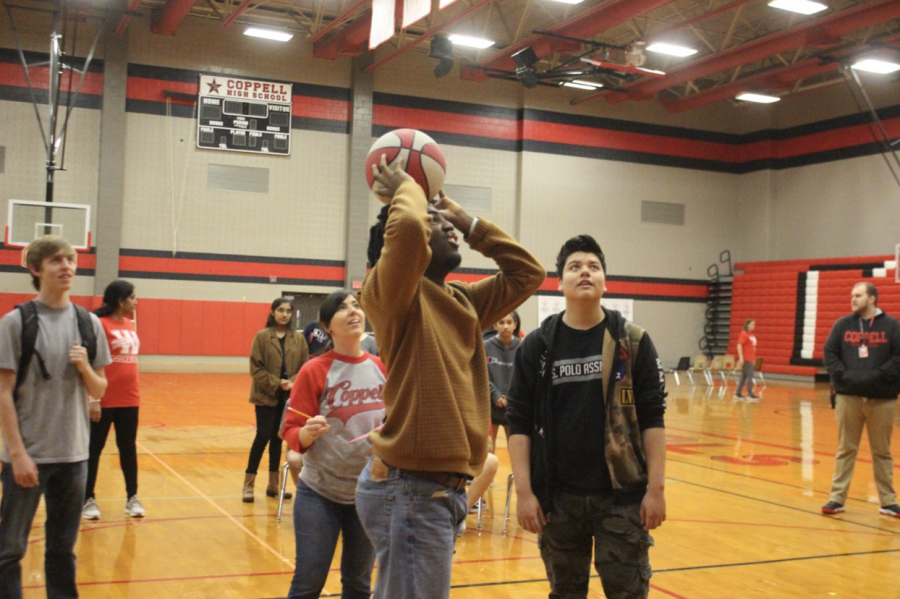 At the end of each event, a small award ceremony is held for the participants and each athlete is presented with an award. Even though the event is rooted in athletic performance, the meaning and lessons intended go much deeper.
"[Today is all about] just some friendship and fun," Coppell Middle School North transitional pathways teacher Kimbery Politz said. "With it being a unified event, the students working with their grade level peers, they focus on working together, being a team and learning some new skills."
CHS senior Anais Hartley watched the competition during second period. She thinks inclusive events such as this play a large role in what CHS represents.
"It's important to show your support, especially for minorities in the school," Hartley said. "It's good that they feel supported and equal in the school here."
CHS senior peer assistant Samantha Allen takes pride in helping special education students and athletes and stresses the importance of these events.
"It really makes their day, they feel apart of something that maybe they've never felt before and I just love bringing that joy to them everyday," Allen said. "[These events] really make a difference. Back in the day, they didn't have events like this and it affects kids as well as the parents because the kids are so happy to go to school and do all these fun things."
In addition to today's basketball event, the athletes have the chance to participate in multiple other Special Olympic events and activities. Other athletic events include track and field starting tomorrow at CMSN at 10 a.m. as well as a fundraising 5K Special Olympics race in June.
"You can definitely tell that these kids just want to learn, they want to love and they have so much love to give," Ost said. "A lot of it is having understanding, patience and the will to want to be involved."
Follow Sydney (@syd218) and @CHSCampusNews on Twitter.