On to the next: Cowboys cruise in second half to playoff victory
EULESS – Sophomore guard Anthony Black shoots with 0.1 seconds before halftime. As the sound of the buzzer amplifies the tense feelings on the court, everyone waits in awe to see if the ball will make it in.
It does. 
Yesterday, Coppell reigned as victors, 80-46, after playing its bi-districts playoff game against Eaton in the Class 6A Region I bi-district playoffs at Trinity High School. 
Coppell (29-5) advances to play Waxahachie, ranked No. 4 in the state according to MaxPreps, at Timberview High School in Arlington on Friday at 7 p.m. in the Class 6A Region I area playoffs.
The Cowboys opened the game by building momentum behind two-pointers each from senior guard Adam Moussa, senior guard Brandon Taylor and sophomore guard Ryan Agarwal.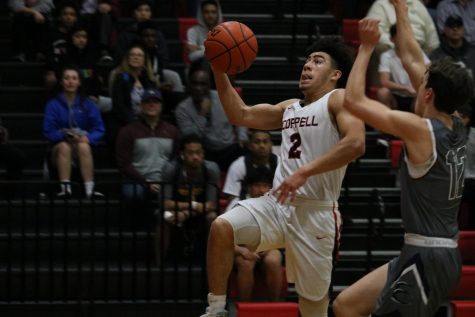 However, a three-pointer from Eaton junior shooting guard Andrew Parker cut the Coppell lead to, 14-9, at the end of the first quarter. 
Eaton's defense and offense saw significant growth in the second quarter, as there were quick turnovers from both sides. The Cowboys also started to show signs of frustration due to the fouls they were making and failed offensive attempts. 
"There was a little bit of nerves," Coppell coach Clint Schnell said. "They were trying to force a few things and trying to do a little more than they needed to. Once they calmed down and started playing their game they were fine." 
The Cowboys aimed to do one thing: break Eaton's defense and score as many points as possible.
Agarwal, Moussa and Taylor were able to do just that and continued scoring a barrage of two-pointers towards the end of the second quarter. A slam dunk by Agarwal and a last-second shot by Black allowed the Cowboys to advance 33-24 at halftime. 
The Cowboys pulled away in the second half, ending the first playoff game, 80-46. 
"I distributed the ball well, shot the ball decently, but as a team, we just moved the ball well and you know, it was a great team win," Moussa said. 
Coppell will now take on a top five team in the state.
"We didn't rebound that good tonight, but you know, it is what it is and I think we can be better next game, Taylor said. 
Follow Nishant (@Nishantnm1) and @SidekickSports on Twitter.