Homegrown film incorporating topical issues into emotional storyline
DALLAS – Tears well in his eyes as the credits roll. The light from the big screen flashes across his features, accentuating the pride clear on his face. At last, his project of over a year has come to life. 
On Monday, Coppell producer and Sidekick staff designer Kaylee Aguilar's father Danny Aguilar's film Lily Is Here premiered at the Angelika Film Center & Cafe. With a red carpet, private screening and Q&A panel, the event celebrated the film's release and the efforts of the cast and crew.
Lily Is Here tells the story of Duncan (played by Cory Kays) a recovering heroin addict struggling to prove himself to a family previously hurt by his actions. Concurrently, his sister Jessie (played by Amanda Joy Erickson) fights for her dreams against her absent, alcoholic husband. When Duncan's drug use indirectly leads to a terrible family tragedy, he is forced to reflect on his own decisions and follow the road to recovery. 
"The theme of heroin addiction and the threat it imposes is just something I care deeply about," screenwriter Daniel Wells said. "Addiction exists everywhere. We can't walk into a restaurant without seeing five or six tables with an alcoholic beverage. Alcohol and drugs and things that aren't good for you in large doses, especially if you get addicted to them, infest our society as a whole."
Coppell, too, felt the brunt of the issue last year, when several CHS graduates died due to opioid smuggling at the now shut down Han Gil Hotel in Dallas. The tragedy permanently affected the victims' families, similar to Duncan's heroin usage and its negative effects on his family.
However, rather than dwelling on Duncan's addiction, the film touches on other familial issues, including abuse, loss and depression, exploring the relationships the characters have with one another and how they heal each others' wounds. 
"Lily is Here represents the four types of love: the love of a mother to a child, the love of a husband and a wife, the love of a sibling and the love of children to the parents," Mr. Aguilar said. "This movie is not really about the addiction [or] the recovery, but it's about [how] tragedy either can bring people together or tear them apart." 
The heavy topics and intimate nature of the film put the spotlight on the actors' portrayal of the complex characters. In order to bring emotion and depth into the story, the actors had to immerse themselves into the characters, soaking in the complicated emotions. 
"A lot of times, when I watch myself on screen, I will get back into that emotion that I was in in the scene," Kays said. "Especially on this one, I [was] out there watching and [thought,] 'Man, I remember feeling like that'. It's kinda tough sometimes, but as far as the role, it may not have looked like it on the screen because of all the emotions, [but] I did enjoy it. It made me wanna stay very, very, very far from heroin."
Though its themes affect humanity as a whole, Lily Is Here established itself as a local film, as it was both produced and set in Dallas. Coppell has its own representation in the film, with former CHS students, including Mr. Aguilar's elder daughter Alyssa Aguilar, seen as extras in some scenes. Mr. Aguilar even lent his own home to the project, using it as part of the set. The film's setting and homegrown team allowed Dallas to shine.
"I'm really excited to see us represented in films," Wells' friend Ann Fields said. "So many times, we look to New York and Los Angeles, [but] there's a lot of acting, directing [and] artistic talent in Dallas. We need to recognize our home and let the rest of the world know Dallas can hold its own." 
Mr. Aguilar plans to submit Lily Is Here into indie film festivals, but the movie will be available through video on demand and DVD. On a larger scale, Mr. Aguilar wishes to tell more stories and make his own cultural mark in the film industry. 
"I'd like to put the Philippines in Hollywood," Mr. Aguilar said. "It's so underrepresented. Hopefully, I'm gonna break new ground. It's a long shot, but [I'll] start from one picture at a time." 
Follow Shravya (@shravyamahesh) and @CHSCampusNews on Twitter.

About the Writer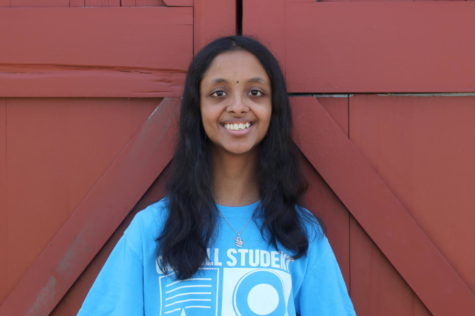 Shravya Mahesh, Entertainment Editor
Shravya Mahesh is a senior and Entertainment Editor for The Sidekick. You can usually find her blasting pop music in her room, snacking on cookies while...