From role player to leader: Taylor embracing role with confidence
Not many sophomores get the opportunity to be on the varsity basketball team at Coppell, but senior point guard Brandon Taylor got that opportunity and has grown in his ability every year.
Taylor's role has expanded since the start of his varsity career. As a sophomore on varsity, Taylor was the backup to former Coppell point guard and CHS 2019 graduate, Tariq Aman. 
Aman is a freshman on the Temple College in Taylor, Texas basketball team.
"From what I have seen this year, he is a huge part of the team and since they have a younger team, they look up to him," Aman said. "I have noticed big steps in how he leads over the course of his three years. He went from trying to figure out his role in leading his team to wins."
Aman was seen as the leader and go-to guy on the team when they needed a shot. This year, Taylor has gotten comfortable in that role, not only by being the leading scorer in multiple games, but also getting everyone involved and keeping the energy up even when he is not on the court.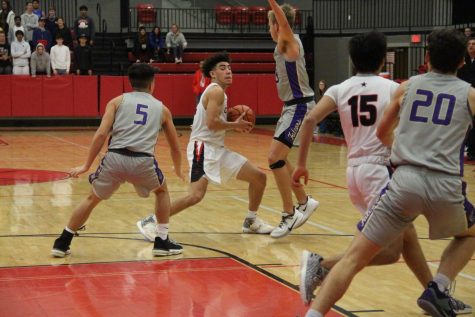 "This year, I have to be more confident because I am the three-year letterman," Taylor said. "I did not start most games last year but this year, I was looking forward to stepping into that role." 
With a team considerably younger this year than previous Coppell teams, Taylor's role on the team has expanded on and off the court. Going from a backup for two years to a starter is not an easy transition but confidence in himself is one thing Taylor does not lack.
"When he was first on the varsity team, he was trying to find his way and was not used to being in the role that he was in, just like anyone would be that's new to a team," Aman said. "His second year on varsity, he stepped into a bigger role since we lost so many starters from the year before, it was more of a limited leadership role."
Not every high school basketball player wants to be a leader or has the poise to step into that role, but Taylor has been seen filling that role with dignity. 
"I could always tell Taylor wanted to be a leader," Aman said. "There are guys who are the best player on their team but they don't want to be a leader. Even when he was a backup and didn't have as big of a role, I could tell he could be a great leader. I knew he would be ready to take on that leadership role now that he is the starting point guard and has a bigger role." 
Most days during lunch, one can see the team sitting with each other and getting closer as a team. 
"Off the court, I am usually the one that tries to get the guys together before the football games or just to hang out and usually that translates to good communication on and off the court," Taylor said. "It is important that the team is close and hopefully that should allow us to be more successful this year."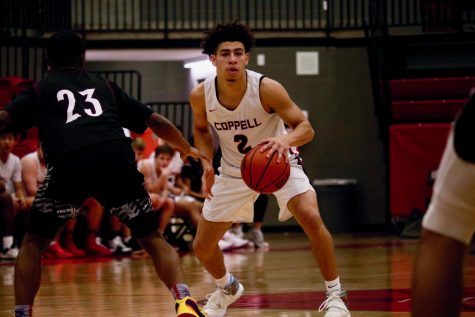 Before Taylor's junior year, the Coppell basketball team hired coach Clint Schnell to replace current Coppell ISD Athletics Director Kit Pehl as head coach.
"For Taylor, it has been a process of him maturing and developing each year," Schnell said. "He has worked hard in the weight room and on his shot and that has helped with his confidence."
In a game that moves at such a fast pace, mistakes are bound to happen yet, Taylor has not wavered in his energy, focusing on the next-play mentality Schnell brought in with him last year. 
"Taylor has always been a vocal kid and by doing that guys are following and rallying behind him. He has the most experience on varsity this year and has helped lead us to the record we have now," Schnell said. "He has a great personality and is caring with his teammates. He is competitive and fun-loving, and all of those things add up to him having great character." 
Currently, Taylor is talking to a few Division I schools and Division II schools along with a few junior colleges. Taylor aspires to play basketball in college and hopes that one day, he can make a living playing the game he loves. Until that time, he is just taking it one step at a time. 
Follow Rithik (@Rithikc11) and @SidekickSports on Twitter.