Juice WRLD death emphasizing dangers of rap culture on youth
Sydney Rowe, Staff Writer/Photographer
December 19, 2019
"We ain't making it past 21."
Lyrics from the popular rapper, Juice WRLD's song, "Legends", leave an eerie aura around the recent death of the young artist. On Dec. 8, just six days after his 21st birthday, Juice WRLD, whose real name is Jarad A. Higgins, suffered a seizure in Chicago's Midway Airport, his hometown, and where he was planning to celebrate his birthday that night.
According to iHeartRadio, Higgins swallowed pills in his possession after hearing the police planned on searching the private jet he traveled on from Los Angeles. The police also found guns as well as more than 70 pounds of marijuana on board the plane.
"I sort of cried a lot," said Coppell High School senior Jackson Newsum, who has been a fan for more than two years. "Initially, I kept on tearing up every time I heard one of his songs because I have a lot of memories associated with each one. There were a lot of emotional moments and hard times when his music was there for me."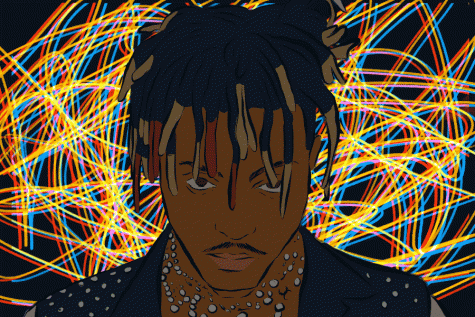 The rapper's music detailed issues with mental health as well as drug use. Despite the heavy topics, the rapper's ability to share personal topics and open up to his fans through his music allowed him to gain popularity.
"His music had a big impact on me, in many different ways," Newsum said. "He talked about life, emotions and struggles; it was relatable. It was cool to know this big celebrity was going through some of these things and how he continued to talk about them as he blew up and became famous."
Many popular hip-hop artists today make music regarding alcohol consumption and illegal use of drugs. With their influence spreading to the younger generations, there is much debate about how the topics within the lyrics from each song rub off on listeners.
"[Kids] are absolutely influenced by artists they listen to," CHS Principal Laura Springer said. "The more you listen, the more you hear and the more you put into your mind, it influences your behavior, your talk, who you think you have to be and how you have to live up to this certain image."
Even today's teens recognize the real power kid's idols and their actions can have on them. CHS senior Reyhan Sivji mentions the dangers of just listening to sensitive and explicit lyrics.
"Today, it seems as if there are a lot more teens involved in things they are not supposed to be, such as drugs," Sivji said. "I believe it's due to the high influence in rap, always talking about it. It gets into kid's minds and they are constantly thinking about doing those negative things."
Amongst many popular rappers today, they often reference the 27 Club, which is a pact-like promise to die at the age of 27. Higgins' song "Legends" also references this club, dismissing it in an almost bragging way, saying that he won't even live that long.
"Looking from the outside, it's a little crazy how this is a trend," Newsum said. "But, if you look at these rappers and all the drugs they are doing, all the gangs they are involved in, there are so many ways they can be killed. The way they are damaging their bodies and putting their bodies in harm's way so often – it's not surprising that this is a known term associated with rappers."
As a source of influence for many high school students, Springer recognizes while there are many hip-hop artists that bring upon a negative impact there are those that realize their role in people's lives.
"Some [artists] are misusing their influence," Springer said. "There's a few that are trying to change up what they're doing and come back around where they need to be."
Even though Sivji views Higgins as a questionable leader for teens, he speaks about how his legacy leaves a positive impact instead of just a negative influence.
"Juice WRLD leaves behind a more positive legacy because he's helped a lot of people," Sivji said. "He found ways to cope with sad things and even though they are not the most positive things to go off of, he was very open with his fans, and I think this is something that the younger generation struggles with and needs to learn from."
Follow Sydney (@syd218) and @CHSCampusNews on Twitter