Supporter shirts building supportive tradition
Tracy Tran, Staff Writer/Photographer
December 18, 2019
"Go Cowgirls, go Coppell!"
The crowd cheered enthusiastically. A sea of blue rose on the home bleachers in the CHS Arena. The Digs for Dogs volleyball match, as well as many other games, were highlighted with the special color of supporter shirts.
"Supporter shirts can be for your friend who cannot be at the golf tournament to wear around school to show they support you and your sport," CHS senior Emily Hunt said. "[Seeing someone wearing a supporter shirt at the tournament] is motivation because you know they support you and what you are doing."
Supporter shirts were originally created with philanthropic purposes, as profits from the Digs for Dogs nights were donated to Operation Kindness, a no-kill animal shelter in North Texas since 2007 in specific and other fundraising projects in general. 
"[Supporter shirts] help build camaraderie between different clubs on campus," KCBY-TV adviser Irma Kennedy said. "It's really neat to know someone I don't even know believes in what we are doing and cares about their friend [enough to buy] a supporter shirt."
As a part of CHS traditions, the supporter shirts show support and create strong connections between every person, no matter their gender, age or position. 
"For years, we never did this," Kennedy said. "We did hear about other clubs doing it, but we just didn't do it. Finally, the kids took initiative and said, 'we will handle it' and then it worked."
Commonly, supporter shirts are sold for approximately $20. However, some groups this year are reducing their prices.
"For most of us, we don't like buying a shirt that is $20, [and] neither [do] a lot of high school students," CHS Round-Up senior Madeline Hall said. "If we sold [supporter shirts] cheaper, people will be more likely to buy them."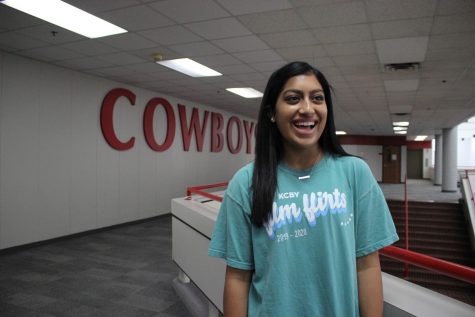 Behind the variety of supporter shirts at CHS are the hard work and creativity of many young designers. Starting with the very basic parts during summertime, CHS students came up with many different design ideas and had many discussions until everyone agreed.
"I came up [with the golf supporter shirts] during the summer with other girls," Hunt said. "We started talking about the colors and the design. At first, the color was purple and we changed to red, then we went back to purple but finished off with pink."
During the process of making supporter shirts, students can develop their communication and management skills. In most classes, the students will be working directly with the shirt printing companies approved by the school.
"The interesting part was getting to contact the companies to make our shirts," Hunt said. "It's really cool because you can see what's going on."
However, the process of ordering support shirts can take longer than planned due to the common difficulty of finding a print company with suitable prices. 
"I like to watch the kids put everything together," Kennedy said. "It's student-run completely. They come to me with questions for guiding, but I let them understand the process I run through when I try to get people to bring in money. I set the deadline, and they get frustrated because they see the same situation that the teachers go through every day. I see the growth [that] the students who coordinate this go through."
The requirement of selling supporter shirts to people is different from each class, as some classes require students to sell a certain amount of supporter shirts, while others do not.
"If you are a brand new [staff member of Round-Up], you will have three shirts to sell," Hall said. "If you are second-year, you'll get five and if you're a senior or a third-year staff, you'll get seven to sell."
The supporter shirts have become a Coppell tradition that students continuously work on changing and improving. 
"The design last year was primarily made on customizing with the limited of fonts and colors," Hall said. "This year, we want to have a professional design instead of a cute shirt so we put the design in Photoshop with our ideas."
Follow Tracy (@AnhImtracy) and @CHSCampusNews on Twitter.