Gaining perspective through celebratory Hindu festival
The steady rumble of a moving crowd fills the hall, merging with chanting and the telltale ring of temple bells. Incense curls around the hall, filling the air with a musky sandalwood and jasmine. 
This is the temple during Navaratri. 
Navaratri is the nine-night, 10-day Hindu festival celebrating different incarnations of the mother goddess, femininity and life. Devi, the mother goddess, is represented in a different form every day and is associated with a story in which she defeats various demons. These demons are metaphors for the physical, egotistical and metaphorical troubles we face in our lives, and through praying to Devi, Hindus believe they will overcome these troubles and prosper. 
This year, I made a promise to visit the temple for all 10 days of Navaratri. A simple idea initially, my ambition turned into a daunting task for me. 
Finishing my homework while visiting the temple every day was difficult. Seeing as the celebration occurred in the evening hours, my prime test cramming time, I would go to sleep at 11:30 p.m. with only half of my homework finished and the need to wake up early to complete the rest. I began to look tired at the temple, with a soulless expression gracing my face unless someone came up and spoke to me. I began to almost regret making my promise. 
Almost. 
Each day of Navaratri is celebrated by first creating an elaborate, lifelike recreation of the incarnation, with silks, flowers and jewelry adorning the idol. Prayers are chanted for about an hour or two, followed by a devotional song session, or bhajans, and food is served. The entire program typically lasts for two to three hours, depending on the temple. All of the preparation for this occurs entirely behind the scenes, done by volunteers and priests. From 10 p.m. to 6 a.m., people take down decorations, fold 10 to 30 saris, create flower garlands and organize ornaments in order to create a lifelike representation of Devi. 
When I remembered the work that goes into putting a festival together, I felt deeply ashamed for ever thinking that going to the temple is a bad idea. My definition of hard work – doing my homework and getting seven hours of sleep, only one hour less than I usually would – pales in comparison to the amount of work that goes into every day of Navaratri. Families pull all-nighters. The head priest, Subrahmanyam Rallabandi, sleeps for four hours and spends the majority of his day chanting. Volunteers juggle between eight-hour work shifts and directing hundreds of people around the temple in a futile attempt at crowd control. In the midst of this, who am I to complain about the measly schoolwork I have to do? 
Now that the festival is over, I do not regret one bit of it. I have never seen hard work like I did at the temple; I have never felt more celebrated and cherished than I have at the temple. Navaratri is a festival not just to celebrate femininity, but to celebrate the community and the love we share for each other. It is my festival, it is our festival, there to celebrate all of us as hard workers, and most importantly, as humans. 
Follow Akhila (@akhila_gunturu) and @CHSCampusNews. 
About the Writer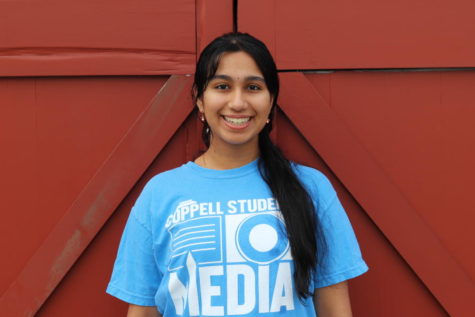 Akhila Gunturu, CHS9 Editor
Akhila is a junior and the CHS9 Editor for The Sidekick. She is part of the IB Diploma Programme at CHS and when she isn't doing schoolwork, she enjoys...