Lacy provides opportunity for aspiring artists through geometric mural
Setting down her paintbrush, professional artist Mary Lacy descends the staircase and steps back a few feet to gaze at the progress of her large, collaborative mural – a geometric design on the walls of a pump house in Cypress Waters.
Once finding her work on Pinterest, the Billingsley Company – a construction organization currently developing parts of Cypress Waters – contacted Lacy about doing a few murals in the area. Lacy emailed Coppell High School art teacher David Bearden and welcomed CHS students to help her with the mural yesterday afternoon.
"A lot of times, for my work, especially when I travel, I try to get some engagement from people to get people involved, help people make memories associated with the artwork," said Lacy, who lives in Vermont. "I have murals in 15 different states right now. Every place I go, I try to find – it can just be a person, or it can be an organization or a business – but I try to find some way into the local community. And a lot of times that's through schools."
The mural features a simplistic design, as it is essentially repeating equilateral triangles with varying colors. Half the triangles are facing upward while the other half are facing down.
"This is a lot of surface area, 100 feet all the way around and 14 feet tall, so we wanted to do something we would be able to really see progress on within one day," Lacy said. "Also, big shapes and repeating colors … it makes it easier for a group, so it doesn't have to all funnel through me."
CHS sophomore art student Ishita Sisodia joined Lacy for a few hours yesterday, as she has been interested in art since second grade.
"I have never painted murals before, [so] I wanted to see how fun it would be," Sisodia said. "[It's a good opportunity because] you don't have to be perfect. Even if you're a beginner, it's pretty simple, it's just putting some paint on there."
The collaboration between Lacy and students was originally scheduled to occur Saturday but was pushed back one day due to heavy rain. Although approximately 30 CHS students originally expressed interest, only a few showed up on Sunday, and Bearden himself was not available at the rescheduled time. Because there were many fewer people helping than expected, the mural will not be completed until later this week.
Once the mural is finished and Lacy moves on to express her talents in new areas, she is likely to provide similar opportunities for students and aspiring artists wherever she goes.
"There's so much cynicism around becoming an artist," Lacy said. "Anytime anyone says that's what they want to do, the amount of doubt and sarcasm thrown their way – I sure got a lot of it. So it's important to see it in action, see it happening, and also to demystify it. I'm just some person, out here, trying to get her paints ready for everyone; we just did this, it's a very human-to-human level. It's not like some magical, mystical fairy dust."
Follow Pramika on Twitter @pramika_kadari
Hang on for a minute...we're trying to find some more stories you might like.
About the Contributors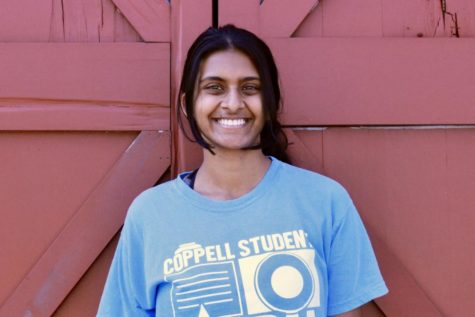 Pramika Kadari, Executive News and Enterprise Editor
Pramika Kadari is a senior and the Executive News/Enterprise Editor on The Sidekick. In her free time, she enjoys reading, writing, watching movies and...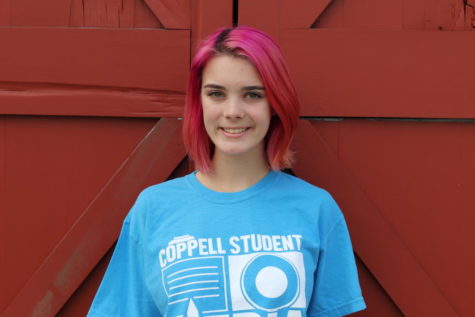 Lilly Gorman, Staff Photographer
Lilly Gorman is a junior and second year photographer on The Sidekick. In her free time she enjoys shooting 35mm film. She is a technician for Coppell...