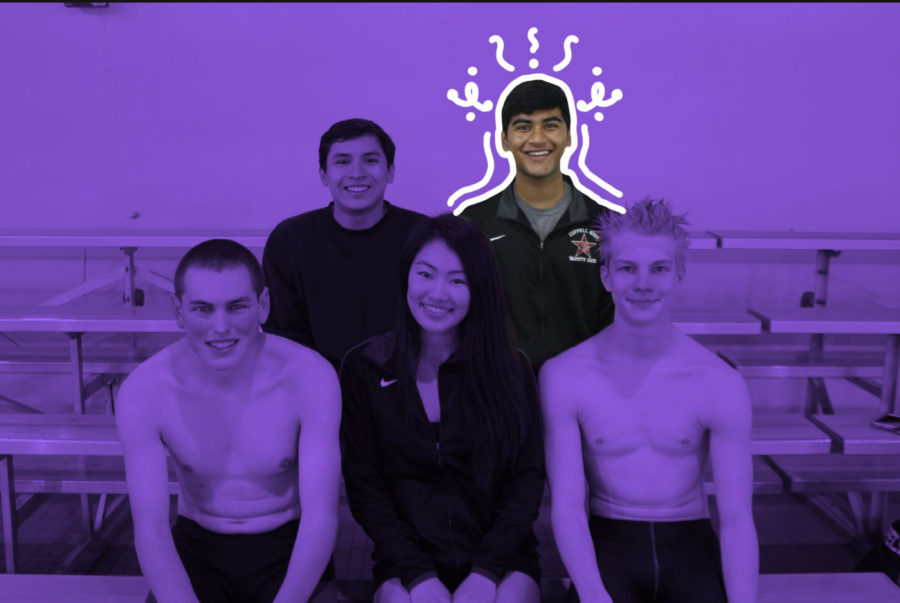 Rithvik Gunda
CHS senior Rithvik Gunda has been on the varsity team for two years. With his best event being the 100-yard backstroke with a personal best of 1:11, Gunda recalls some of the aspects of the team that defined his high school swimming career.
What's your favorite memory with the swim team?
My favorite memory would be during my freshman year, we had dryland workouts with Coach Whittlesey, when he was still here. Every Saturday, we would have dryland practices. He would encourage us to work as hard as we can and then instead of "dig through the pain", he would say, "dig through the ice cream", and then he would award books, some of his favorite books, to people who threw up during drylands because he thought that that was a sign of hard work and success, so whoever threw up got a book from him. Still to this day, I think of dig through the ice cream because "pain" has a negative connotation, and ice cream is good, so if you dig through that, it's more beneficial.
What is your greatest accomplishment in swimming?
My greatest accomplishment would be breaking my 100-yard free time [for a new time of 58.6 at last year's Golden Boot Duel at the JJ Pearce Natatorium], just because I'm not a short distance person, I'm more of a long distance [swimmer], so I had to train consistently for several years to break my time.
When and why did you start swimming?
I've been swimming for seven years. I started competitive swimming in fifth grade. Basically, my parents forced me to swim because they thought it was a life safety skill. I remember the first two years I started my swimming lessons, I really hated it, and it took me around two years to stop crying every time I got in the water. My parents took me to three or four different places, then finally at the [Coppell YMCA], I calmed down a bit, and we went from there.
What was your hardest moment as a swimmer?
During our on-season varsity practice, we would do something called [Ultra Short Race Pace Training (USRPT)]. Essentially what that is is you would have you attain your best time throughout like 20 times of that same event, of that same set. You would do that same set 20 times, and you would have to try and keep your best time consistent. Being able to achieve that is really hard. Usually at a meet, you have rest so you can attain your best time a single time. But then doing that 20 or 30 times repeatedly is super exhausting, super hard. It requires you to dig into your mental strength.