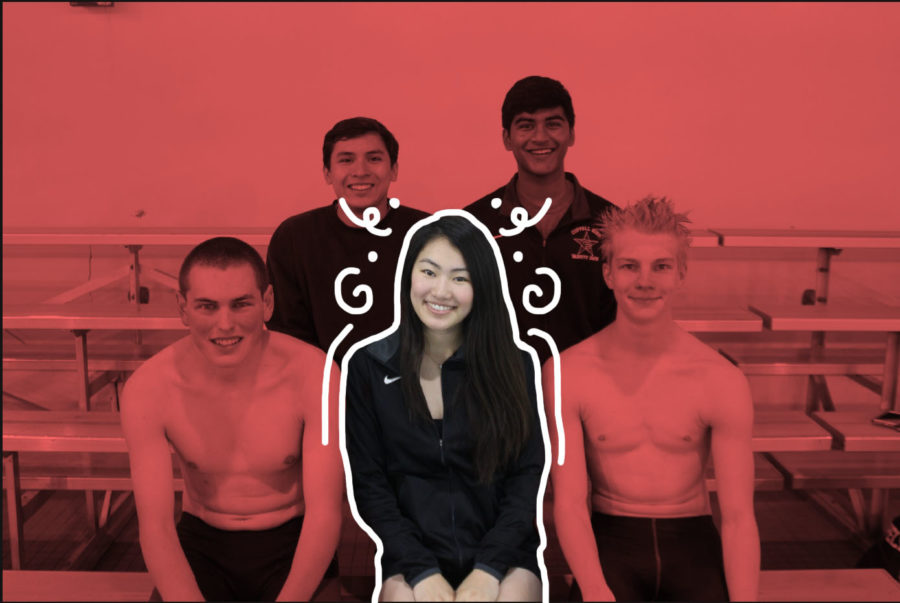 Yue Taira
CHS senior captain Yue Taira is the only female senior on the varsity team. Taira has played numerous sports in addition to swimming, and while she does not plan on continuing competitive swimming, she has made relationships and memories from her time at CHS.
What is it like being a captain?
So for swim team, it's a really unique experience compared to being a captain of another sport like softball or volleyball or basketball, because swimming is a completely a different sport in itself because of us being in water and also it being co-ed, like a team of boys and girls, which is a different dynamic than other sports might be. For me, personally, being captain means being able to relate to and talk to and have a relationship with every person on the team. Not just being the leader or having the name of captain, but actually encouraging them in practice and growing their respect through my actions.
What is your favorite memory?
That's a tough one. I've had experiences with so many groups of people. Like, towards my freshman and sophomore year, I was closer with the upperclassmen. They've all graduated already, but we've had lots of memories at swim meets or parties or get-togethers with the swim team. Now, it's a completely different group of people representing the swim team. They're all younger than me, which is weird because I used to be friends with people who were always older than me. We had a travel meet, which is the first time I went this year, which was really fun because I never had that experience before with any other organization. Swimming is such a big part of my life; I spend so much time with the swim team that anything we did together, I felt myself going with them. Not just physically, but also emotionally and mentally. It was a good experience I had in my life, and I will always be grateful for it.
How would you describe the relationships on the team?
With the swim team, you just get so vulnerable with people because you spend so much time with them and you see them in the water. Sometimes they are at their worst, sometimes you feel like you can't try anymore and you see each other at the lowest of the lows, and so that really builds this connection, because you're going through this together. That really builds a good strong connection between the group. Within the swim team, obviously, there are friend groups and people who are closer to each other, like I was closer to upperclassmen because I clicked with them more than the underclassmen, but overall, as a team, we're very strongly united.