Student of the Week: Havemann carries on crafting, welds weapons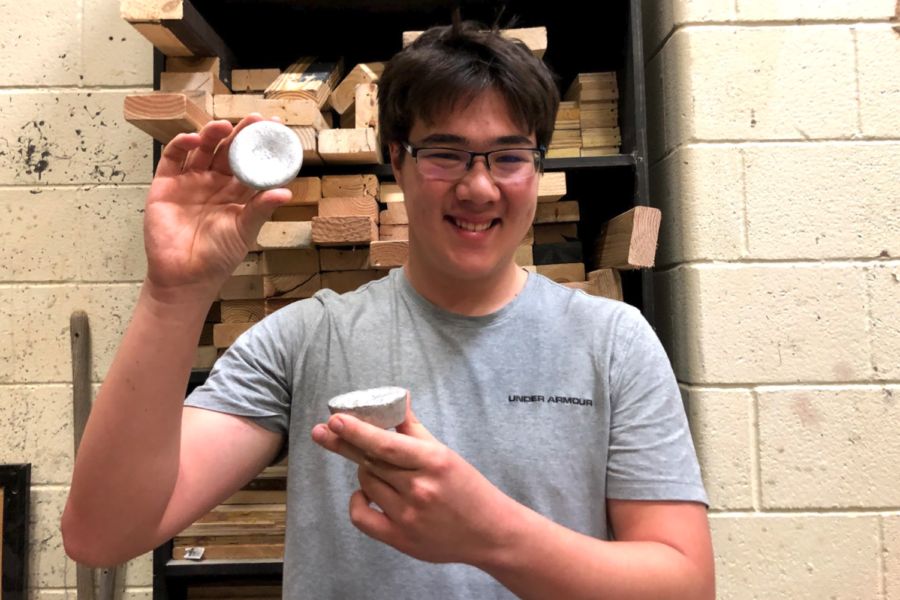 Coppell High School sophomore Ethan Havemann, along with playing the saxophone for the CHS band, spends his free time working with wood and metal. From replica weapons to silverware, he creates a multitude of masterpieces. Havemann was selected as The Sidekick's Student of the Week and reflects on his history with the art.
How did you get started with metalwork?
My grandfather. He was an electrical engineer then became a doctor; he built a workshop after he retired. My cousin and I, we would always go to his house and be like, "We want to build weapons." We would play all these stupid games. When we were 10, we started cutting down trees and just building whatever we thought was cool from whatever video game we were playing.
Where do you do all of your work now?
The stuff with getting raw metals, like ingots, happens at my house, and the rest happens at my grandfather's workshop, [which is] a few hundred miles south of here [in Temple, Texas]. [At] my house, it happens in my backyard. In [around] sixth grade [at Coppell Middle School North], I decided I wanted to build a foundry [a workshop for casting metal] out of a bucket and a whole bunch of concrete, and so it burns charcoal to heat up aluminum cans and burn them down.
Where do you get all your materials?
[The ingots] are recycled. Charcoal, I just buy from Walmart. The bucket, I also bought from Walmart, and then concrete I buy from Home Depot. It was pretty cheap, it's like $100. I got it for my birthday one year.
Where did you learn to weld?
My great-grandfather was a blacksmith, and so I inherited an anvil. There are a whole bunch of types of welding. The very first type I did was forge welding, which is where you take two pieces of metal and literally hammer them together until they stick. I don't really know how I got started. One day, my grandfather was like, "you guys wanna learn how to weld?" so we used an old restored arc welder. He taught me how to do most of the stuff and I [searched] YouTube for the rest.
Where do you get your inspiration?
It's generally from video games, or when my parents are like, "kid, make this" or something. So whatever my parents want, or whatever seems cool from a book or video game or just an idea.
What is your favorite piece to create?
With woodworking, I did a bunch of paneled floors, which was cool. I did glass windows, which is actually really interesting, like old-style, you have to glaze everything. It's really tedious, but once you're done, it feels really cool. I did a wood-working project for geometry last year where I cut down a tree, took a board and inscribed all of my equations for it; that was fun. Metal-working, I have an Egyptian-style khopesh, which was the first sword I forged that didn't look like complete garbage.
Have you ever been injured?
Yes, many times. The worst one was when we were making these axes. We were doing a drill press, and we didn't clamp it down, and it literally just started spinning and cut most of the way down my hand. I've had a lot of shocks too, but those aren't too bad. And burns.
How long is each project?
For random ideas on a whim, maybe five hours or so, but if it's one of those "I really wanna make these, it needs to be professional," I'd say two hours of plotting it out, another two hours of running through a wooden prototype, and nine hours to build the rest of the thing. It depends on the project though. I made a crossbow, and that took a really long time, probably 17 hours all together just to design the mechanism to make it work, where things like a khopesh are really simple because most of the things are done in execution, so maybe eight hours in total.
What do you want to do with this in the future?
It will probably just stay a hobby, maybe make a few dollars selling something. I don't think I'm going to do it as a career.
Follow Sally (@sparampottil) on Twitter.
About the Contributors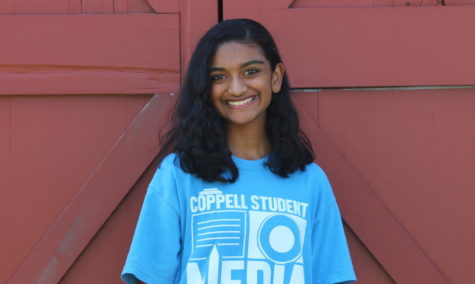 Sally Parampottil, Executive Sports Editor
Sally is a junior and the Executive Sports Editor on The Sidekick. When not working on homework or other school-related activities, she can be found rewatching...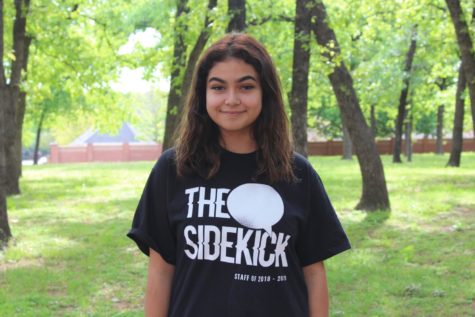 Stephanie Alvarez, Staff Photographer
Stephanie Alvarez is a first year member in the sidekick as a photographer in her sophomore year, She enjoys the outdoors and going on adventures . You...