New Tech seniors leaving final marks on campus through tradition
The walls of many high schools in the country look relatively similar. A few portraits of students may be hung up, posters may be plastered across the walls, and many areas may simply be bare.
However, the walls at New Tech High @ Coppell are far from ordinary thanks to a cherished school tradition.
"When New Tech was first started in Coppell in 2008, the teachers had an idea and decided to paint a brick with the theme of where they went to college outside their classroom," NTH@C senior Andrea Agius said. "Pretty soon, the seniors joined in, and now we have a few decorated walls across the school."
Each April, the seniors line up in front of that year's designated wall. The principal then yells "Go!", and students rush to write their names on the brick they wish to paint.
Each senior is allowed to claim one brick to paint. Students paint their bricks throughout the end of the school year in times such as before school, after school and lunch.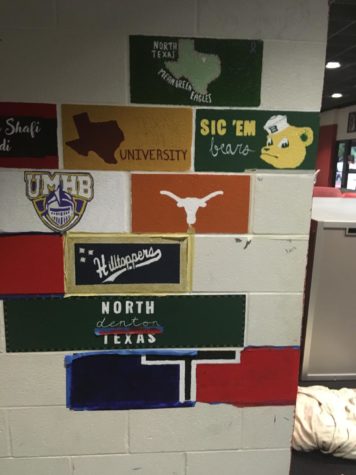 The bricks normally include the name of the student and the logo of the university they are attending in the coming semester. However, plenty of former students have decided to drift from the status quo.
"Some kids have collaborated with their bricks in the past if they are going to the same school," Agius said. "They'll get their bricks in the same place and make a larger painting. We had a group of students in 2015 who had their bricks stacked upon each other, and they made the University of Texas tower."
Some students have also adorned their bricks with symbols of careers that don't necessarily require a college education.
"Since I'm doing a lot of stuff with music, I'm putting my music logo on my brick," NTH@C senior Reece Bonneau said. "The background is going to be maroon with the [Texas A&M University] logo in the bottom corner. This is to signify I am going to be pursuing my music and my brand, but at the same time I'm still wanting to go to college at A&M."
Former students have also chosen not to attend college at all. The unique paths students chose to take are evident on the walls of the campus.
"We've had students who have chosen to join the armed forces," NTH@C special education teacher Laura Hynson said. "We had one learner who was a member of a band, and she put her band logo on her brick. Four years later, she is still in the same band and performs all around the Dallas area."
To the students and the staff the colored walls around campus represent more than a senior tradition, they are signs of a unique school culture.
"The painted brick walls show me New Tech not only cares about me, but cares about my future as well," Agius said. "This tradition lets me leave a mark on where I went to school. Later on, if I become successful, students can look at my brick and say, 'Hey, this person went to school here'. It lets us have an impact on future students."
As well as a way to celebrate the future and leave a token for the past, this tradition also showcases an attribute the school prides itself on: creativity and innovation.
"Everyone at New Tech is very connected," Bonneau said. "The bricks are a way of showing incoming freshmen the accomplishments of past students. They also show new students how we branch out and show some of our creativity at New Tech."
Follow Nicolas on Twitter @nico_reyes19