Freshmen athletes conforming to high school athletics after initial scheduling issues
Before basketball season came to an end late February, CHS9 freshman boys basketball player Anthony Black's school schedule was a monotonous grind.
Black woke up early in the morning to get to Coppell High School to train with his team. As the clock hit 9:55 a.m., the freshman would rush to the showers and change before his other teammates to catch the bus shuttle to CHS9, all in the span of 15 minutes; only to often arrive late to his second period class.
Since the opening of CHS9 this school year, Coppell High School athletic programs experienced many changes, both big and small.
With the addition of a new campus, athletes and teams face several complications throughout the year, especially when it comes to traveling between campuses and games without wasting too much time.
But though the two campuses are three miles apart, CHS9 continues to provide talented athletes to CHS sports teams.
"Our biggest aim was to make sure that athletics would be unchanged with the opening of CHS9, regardless of the sport, gender and grade." CISD Athletic Director Kit Pehl said. "We wanted to make sure that the opening of CHS9 did not adversely affect our freshmen's ability to compete at the level where he or she would normally."
Like many other coaches, Coppell girls basketball coach Kristen Davis had to adjust to the opening of CHS9.
"Having freshmen in JV and varsity sports teams at CHS has made scheduling and practices a bit more complicated," Davis said. "Sometimes we have to get a little creative with study hall to give them time to travel and get ready to train. We have even had a couple of kids who we wanted to be on JV and varsity who couldn't make it work because of how complicated the schedule can be at times."
However, with CISD's new bus shuttling system this year, freshmen athletes can travel between campuses in a punctual manner.
"The buses do a great job getting [freshmen athletes] here on time," Coppell girls soccer coach Ryan Dunlevy said. "We have study hall in the morning too, so arriving a bit later doesn't cut into our training time."
Study halls in sports periods, usually around 30 minutes long, give student athletes time to catch up on school work. However, this year, it has been a key tool for coaches such as Dunlevy to ensure the team schedule minimizes hiccups. Study hall is commonly held at the beginning of athletic period so delays freshman athletes may encounter don't eat into their practice time.
Travel can prove to be a hassle when it comes to games, especially since sports usually have one away game each week during their season.
"Game days can be pretty tough," Davis said. "In most cases, the coaches are the bus drivers; they have to pick up kids from all three campuses [and]  battle traffic to the game. We have to leave super early. Kids have to sometimes miss some class time, but it is compensated in the extra study time."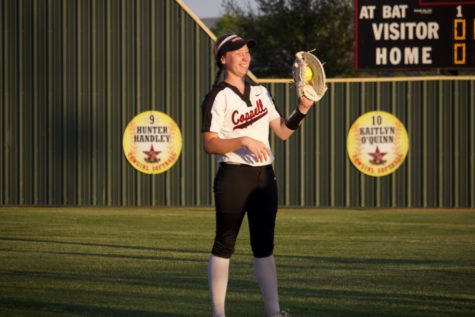 Being on a varsity sport as a freshman is an accomplishment in of itself, but CHS9's Rhyan Pogue earned herself a spot two varsity sports rosters at CHS this year – basketball and softball.
Pogue's schedule as she balances school and athletics, like other CHS9 athletes at CHS, is a busy one. As a dual-sport athlete, Pogue finished basketball season and stepped into softball season in a span of a weekend.
"It's hard to fit in time for both sports and school work, but you have to be willing to make sacrifices for the sports you love," Pogue said. "I often have to come to tutoring early mornings and then have work late at night to fit in my training."
Black thinks upcoming freshmen athletes like himself could find themselves in an easier spot if the CISD better planned out their schedules.
"I feel like [CISD] should start off kids who play JV or varsity at CHS in the first period," Black said. "It can sometimes be a lot to get your schedule changed halfway through the school year. Sometimes, kids had to wait until after winter break when it might have already been a couple of weeks into their sports season."
However, the athletics program has grown largely accustomed to CHS9 students over the last year. As the next school year approaches, CISD is looking to amend more changes to better facilitate possible issues.   
"The only thing we need to look at for next year, as we did this year, is issues that may arise in transportation," Pehl said. "As we went from fall sports to winter sports to summer sports, the number of students being transported changed, so going we need to be flexible in order to provide enough buses for the students. So going into next year, we have a better preview of what's going to be needed seasonally in regards to it… this year really gave us a change of perspective.
Follow Akif at @akifabidi