CHS students place second in state science fair with solution for the global water crisis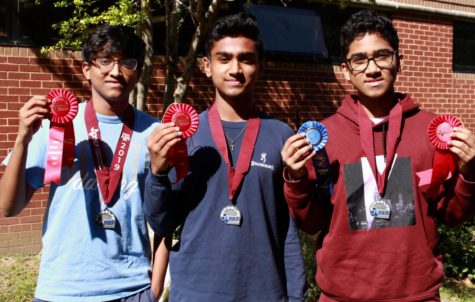 For the first time in the past 10 years, CHS ranked in Texas Science and Engineering Fair(TXSEF), an annual statewide science fair at Texas University on March 29, thanks to the efforts of CHS junior Tom Vazhekatt, brother sophomore Zach Vazhekatt and sophomore Karthik Karuppiah.
Finishing second in the Plants Science division of TXSEF, the group of three investigated the potency of antibacterial properties of Moringa Oleifera plant seed extracts to use as a natural water purifier. The project ascertained the application of Moringa Oleifera killed bacteria and purified previously dirty sample water into drinkable water.
"We wanted to do something that would not only benefit people here, but also people in third world countries who don't have the same type of access to clean water that we have," Tom said. "We discovered this is something of great potential, not only because it is 100 percent natural but also because is also highly effective. It has the potential to be the solution to the global water crisis, and that was something we really stressed on while we were competing."
Every year, hundreds of Coppell High School students design and present projects in the CHS science fair, from which a group of around 50 advance to regionals. In the end, only a select few emerge from the regional fair to compete at the state level. In a series of rigorous examinations and interviews by the judges, the group was awarded second place based on the quality of their presentation, the long-term potential of the project and the accuracy of its findings.
The team's long-time mentor, CHS9 biology teacher Cathy Douglas, aided its project.
"[They got this far] because they were driven to be successful," Douglas said. "They see the different possibilities the science fair can open for them and what it can mean for their future education. That's what drove them to work hard on this project, follow through and do as well as they did. The project wasn't for a class, a grade or their GPA. They did it strictly because of their passion for science, which is amazing."
The three contestants have been competing individually to reach TXSEF since freshman year; though Tom qualified for TXSEF last year, he did not place. However, seeing how their projects fell into a similar segment of science, they decided to join forces this year.
"I had already been working on this project since last year," Tom said. "[Zach and Karuppiah] had focused on something called the Water Quality Index (WQI)  test, and I wanted to implement that into this specific project, so we decided to join together and make it happen."
TXSEF, a member of the world-famous Intel® International Science and Engineering Fair (ISEF), sends the first place winner of each science division to ISEF's highly distinguished annual international fair, where the best student-made science projects globally compete. Finishing second, the group did not win the chance to contend at ISEF this year.
However, they are prepared to give it their all next year. The project is set to see several major improvements over the next year, and this time, the group is also ready to publicize their project.
"We will try to implement a directive; we are going to make infomercials and try to talk to charities to try actually make this concept a real initiative," Karuppiah said.