O'Quinn bringing leadership, camaraderie to Coppell softball
O'Quinn has been playing softball since she was 7 with Coppell Girls Softball Association (CGSA), which is not unusual for a girl in high school. The difference with O'Quinn is she still plays with some of the girls on her CGSA team.
Senior Ari Figueroa has been with O'Quinn since sixth grade and has seen her develop as a player along the way.
"The whole team is a big family… you can always see on and off the field that we're always laughing, and I know I can trust them," Figueroa said. "It's important to have that relationship as teammates."
As with any team, that family-like connection is imperative to success. While it is beneficial to have O'Quinn cheering on her teammates, they also build their friendship through an annual team sleepover and other team events.
O'Quinn has played with several of the same teammates for four years, as she made varsity  as a freshman. The current center fielder began the program as a catcher but made the transition after her first year.
"Her speed really helped her," Coppell coach Mike Dyson said. "She's also really smart so she was able to make the change pretty easily."
The ability to change positions so effectively is a rare trait, especially after years of playing the first position. However, this versatility is just another testament to O'Quinn's dedication.
"There's such an individual aspect to [softball]," O'Quinn said. "Each individual has to succeed to make the team succeed. Sometimes, a game might depend on one hit or one play, but a lot of it has to do with the team."
Being a centerfielder, O'Quinn communicates to the rest of the team. Even on a softball field with cheering parents, the other team chanting from the bench and all the other noises going on around her, O'Quinn makes herself heard.
"She's a leader," Dyson said. "She is always talking with her teammates on the field, and she is an example for the younger players."
About the Contributor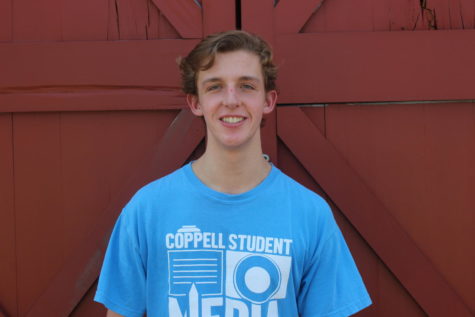 Nicholas Pranske, Executive Copy and Design Editor
Nicholas is a senior and in his third year on The Sidekick staff. He enjoys reading the encyclopedia cover to cover and polishing shoes. You can often...