Song of the Week: "Thug Life" – BROCKHAMPTON
Boybands have taken the world by storm once again. Bands like BTS and BROCKHAMPTON have taken the place of music industry staples, such as One Direction. Their genre-bending nature has introduced people to genres they wouldn't listen to otherwise. On its recently released album iridescence, BROCKHAMPTON continues to stitch together dream pop, art rap and trap in a cohesive manner.
"Thug Life" is the second track off of iridescence. Kevin Abstract, the group's leader, opens the track off with a hook reminiscent of bling era anthems. His demeanor is hidden behind a vocal filter that shrouds his true voice with a youthful tone. bearface, the Irish vocalist and guitar maestro, raps a verse that he first spilled out on track one.
"Try to treat man like baby
Feel the teeth sink in like rabies
Boy you know you don't look fly
Dem gold chains turn your neck green, bye"
Those lyrics read as critiques aimed at toxic masculinity. bearface denounces the action of treating others as lesser humans. His voice is backed by a vibrant piano and looped hi hat. The entire song finds those two instruments bouncing off of the Abbey Road walls the track was recorded in. With that being said, peculiar synths do find their way into the mix at times.
Dom McLennon, vocalist, enters the track with a vulnerable sounding filter over his voice. His personal pronoun filled verse is reminiscent of the outro he rapped on "MILK" off of SATURATION. Images of metaphorical skeletons and bits of self reflection are once again showcased by the Connecticut rapper.
Being a short track, it leaves the listener longing for more of its sound and ambience. That is easily the tracks weakest flaw. However, that doesn't change the impact of the one-two dynamic that track one and two share. "THUG LIFE" is a great start to BROCKHAMPTON's fourth studio record.
About the Writer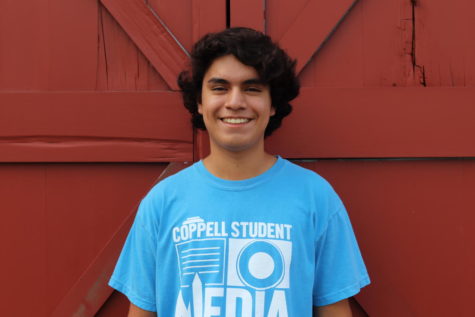 Andrés Bear, Coppell Student Media Web Producer
Andrés Bear is a senior and third year staffer on The Sidekick. He enjoys playing the acoustic guitar, writing and reading in his free time. With comments...