Running in the big leagues
Cross country team preparing to face tougher competition
In the past four years, the Coppell cross country team has improved its standing significantly in Texas. With a recent district realignment, the team will be facing some of the top teams in the state at its district and regional meets.
The challenge this change presents has only motivated the team to work even harder this year to reach its goals.
Flower Mound and Hebron are two of the new teams in this year's District 6-6A. Flower Mound's boys and girls teams were both top 10 at the 2017 state meet and Hebron finished second as a team in the girl's division.
"I feel pretty good about the recent district change," Coppell High School junior Jackson Walker said. "It's a pretty large step-up as far as competition goes, but I think it will be really good for our team."
The team is focusing on strengthening its previous training tactics and building its mental strength rather than changing things in order to prepare to face these new teams. Its current training requires the runners to run seven days a week, year-round.
"We haven't been doing anything different in our training," junior Shelby Spoor said. "What we have been doing is preparing us perfectly."
This year, the girl's team is looking past its goal of earning a medal at the state meet. Although this would be the first time in recorded history a Coppell girls team has medalled at the cross country state meet, the girls have their sights set on their ultimate goal of qualifying for the Nike Cross Nationals meet.
"After not performing our best last year at state, we are really hoping to come back and get a medal this year," sophomore Chloe Hassman said. "Not only that, but we have our sights set on NXN (Nike Cross Nationals) and we really do believe we have a serious shot this year to make it."
In order to reward the girls team for beating Southlake Carroll, a team that has consistently performed well at the state meet every year, the top seven girls traveled to compete in the Woodbridge Invite in Norco, Calif. This meet hosts thousands of runners and hundreds of cross country teams every year in one of the largest high school meets in the country. The girls left for California on Sept. 14 and competed on the national stage for the first time in the program's history on Sept. 16.
"It was a great bonding experience and it exposed us to national competition and hopefully this will help us with the same experience if we make it to nationals," Spoor said.
Follow Sydney on Twitter @syd218
Hang on for a minute...we're trying to find some more stories you might like.
About the Writer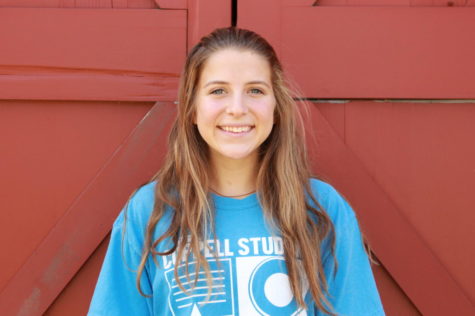 Sydney Rowe, Staff Writer/Photographer
Sydney is a senior and is a second-year writer and photographer on staff. She enjoys being active and going to new places in her free time. In school,...