Pre-game rituals get athletes' heads right before games
With a playoff match just minutes away, the Coppell boys soccer team can be found kicking around a hacky sack and casually chatting with each other on one side of the locker room. The atmosphere is eased, with the laughter and commotion from teammates filling the air in the background. But before it is time to take the field for the match, the boys always make sure to gather for a quick team prayer.
"A lot of the time you come out on the field, you'll be somewhat nervous because you're playing a good team and you need to win, especially in the case of playoffs," senior defender Josh Strong said. "My favorite tradition is that we all pray together right before the game, no matter what faith you are from, even if you don't have one, it's an opportunity for everyone to just take a moment to calm the nerves and ask God for help, it's always super impactful in our play".
The Cowboys always try to spend time talking and joking around amongst themselves to get prepared for a match instead of being isolated on their phones or music.
"I try not to listen to music before games because I try to spend my time with my teammates instead and hang out with them," Strong said. "I haven't known many of my teammates for a long time but they are the people I have the best relationships with. It helps us know each other better both on and off the field, and helps our chemistry as a team."
Lots of athletes get the jitters before stepping onto the field for a big game, and the pressure and the nerves can often bring down an athlete's confidence and hinder their performance.  Self-assurance is a crucial part of an athlete's performance and can be a pivotal part of a team's ability.
A great athlete from any sport, ranging from basketball to football, requires a strong mental state and self-assurance before games. Take any standout such as Argentinian soccer great Lionel Messi. There may be more physically fit soccer player in the world, and maybe even more skilled, but in the end what makes Messi, or any great player, the player he is, is his confidence and composure while playing under pressure.
Athletes tend to have a dash of superstition when it comes to pre-game traditions. It might be things that people may not notice, but the superstition oddly soothes the game-day jitters. Though the psychology of pre-game rituals is somewhat hazy, they give players the edge they need.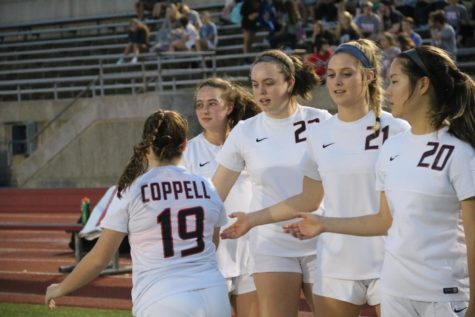 The Coppell girls soccer team also has a couple of its own traditions. For example, one such tradition occurs right before kickoff when the players stand in a semi-circle near the edge of the field in the order of the players' numbers. As their names and numbers are announced over the stadium's speakers, the players run along the horseshoe, high-fiving their teammates and cheering before they sprint toward half-line for the anthem.
"I like to wrap this band around my shoe every time, and I also make sure to wear a pink headband every game. While I'm running through the horseshoe, I always wave to my mom in the stands, or else I can't play," said junior defender Mary Ziperman, with a chuckle. "Pre-game traditions affect us in a good way. Even though they are a little superstitious, it gives us the extra confidence we need for the match."
It is not uncommon to walk into a locker room before a game and hear some upbeat music over the speakers. Many just rely on their favorite music to pump themselves up, and sometimes just listening to the right tune can be enough to get them going.
"I like to listen to 'Middle Man' by B.o.B before a track meet to get me pumped," Coppell sophomore high jumper Ben Battleson said. "When I was a kid, me and my brother used to listen to B.o.B when we use to play Black Ops, so I have a lot of good memories associated with it. So I listen to it to calm my nerves whenever I'm super nervous."
In the end, superstition and sports go together hand-in-hand, an athlete's mental and self-belief factor can at times be important as the physical.