Coppell wrestling Montealegre, Jackson, McIntosh gear up for season
Wrestling has seen some of the largest growth in Coppell High School's athletic department with around 125 wrestlers in total this year. With all eyes set upon qualifying for state, Coppell wrestlers are eager to get started this month.
The journey to the state is no easy task. Athletes have to compete against many wrestlers in their weight class from more than 100 schools, and battle through the district and regional championships to secure a spot at the state level. In the history of Coppell, only six wrestlers have won state, but the team is not planning on stopping there.
Though Coppell had an impressive nine state qualifiers last year, Coppell wrestling hasn't had a state gold ever since Roger Moe won the Class 5A 285-pound division title four years ago.
One of the stars of the wrestling team is senior Joe Montealegre, the varsity captain. Wrestling runs through Montealegre 's blood, with his father and uncles being highschool wrestlers in Louisiana and his older brother being former Coppell wrestler  with two district titles; it came as no surprise that Montealegre also developed a knack for the sport.
Like others, Montealegre dreams of holding the gold state championship medal in his hands.
"The goal is always to get to state and the state champion," Montealegre said.
With an impressive high school career so far with two district championships, Montealegre  still has a whole senior year ahead of him.
"Joe works hard and takes care of his business." Coppell wrestling coach Chip Lowery said. "He can talk to the kids and they look up to him."
Montealegre provides some words of encouragement to young aspiring wrestler.
"Stick with it, don't get discouraged if you lose," Montealegre said. "Losing is just a part of the sport, everyone loses. But you have to stick with it."
Another rising prospect is sophomore Jackson Briscoe from the 150-pound division. Placing third in state in eighth grade and winning the runner-up position in district freshman year, along with being lettered in varsity as a freshman, Briscoe has a promising future. Briscoe does not plan on stopping anytime soon with his ambitions aiming at the state championships and above.
"My personal goal is probably to make it to state, I would really like to try to make it to state and maybe even win state," Briscoe said. "By the end of the season, our ultimate goal is to get as many people as possible to qualify to state."
Wrestlers come in all shapes and sizes, and no two are the same.
"I like wrestling as it has a lot of different approaches," Briscoe said. "Not everyone looks the same, you have many different types of people with different athletic abilities; but they all still can compete with each other for a chance of victory."
One of the biggest breakouts in women's sports in the past few years has been in wrestling. Wrestling has been and still is often perceived as a "men's sport", but the past couple of seasons has seen a tremendous increase in the number of female wrestlers in high schools. This year, CHS has 25 female wrestlers, eight more than the previous record.
Senior Lindsay McIntosh is one of the key wrestlers for CHS, the captain of the girls varsity wrestling team and is also one of few to have qualified for state for three consecutive years. McIntosh has quite a few achievements to proudly bear, having won district and regional titles as a freshman and sophomore.
As a junior, McIntosh won gold at district, silver at regionals and placed third at the Class 6A  165-pound division state meet.
"She has that focus; she was the captain of the varsity last year as a junior and she took that responsibility on, she helped mentor the other girls and helping to keep everything going," Lowery said. "She just fits in into that leadership role, she put in the work, and got a state medal to show for it, the girls respect her and she knows what it takes to win."
McIntosh advocates for girls wrestling.
"Since Texas is such a conservative state, it's not very developed. It's so much less competitive for girls in Texas and it is also less valued. Like if I won state in Oklahoma, I would be getting scholarships everywhere but if I win it here, I'll get much less opportunities," McIntosh said. "Womens wrestling is underappreciated just because there are less programs, but the fact that it is breaking out and becoming more common thing everywhere in the USA and the world is a big thing."
The girls and boys wrestling season commences on the Nov. 14 at the Coppell Round Up in CHS. With the off season currently in full gear and the wrestling season just around the corner, Coppell High School wrestlers are prepping up for the long haul with relentless vigor.
About the Contributors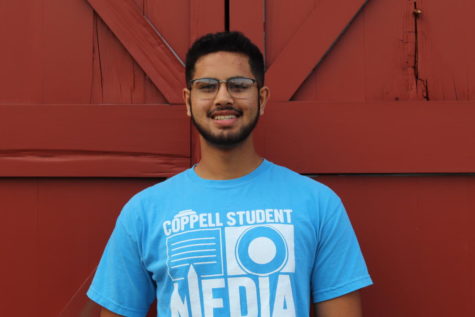 Akif Abidi, Staff Writer
Akif Abidi is a senior and a third-year staffer on The Sidekick. In his free time, he enjoys playing soccer, working out, video games, watching shows...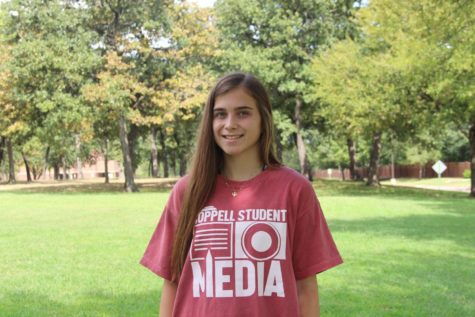 Nadia Scalzo, Staff Photographer
Nadia Scalzo is a senior and first year staffer on The Sidekick. In her free time, she enjoys running track, playing the guitar and hanging out with her...