Badillo, Wilcox pave way for Coppell High School swim team
"We were screaming, we were just so happy, so overjoyed, and that was one of the best feelings, it was a lot of fun," Coppell High School senior Anna Wilcox said, remembering when she and three of her teammates broke the 400 free relay school record.
On Feb. 4, Gabi Badillo, Anna Wilcox, Cambria Henderson and Sydney Blaas competed in the Class 6A Region ll Swimming Regionals meet, and ended up breaking the record, with their total time of 3:41.65.
Badillo and Anna are seniors, and Henderson and Blaas graduated in the Class of 2017.
Badillo, the starter, finished at 56 seconds and Wilcox finished at 54.9 seconds.  
"It's a two day meet, so the first day was just the preliminary trial, and this whole season our goal was to beat the 400 free relay record and we just wanted it really bad, so we actually ended up getting it the first day, in preliminaries, which was a huge deal because that normally doesn't happen," Wilcox said. "We were screaming, we were just so happy, so overjoyed, and then we obviously wanted to break it the next day, in the finals, and so we ended up dropping two more seconds, and that was one of the best feelings,"
Anna, Gabi and Anna's twin sister, Sophie, are known as powerhouse for the CHS swim team, and have been swimming together since they were 6.
Outside of the CHS swim team, all three girls swim for the Dallas Mustang Swim Club.
For Anna and Sophie, swim is partly about upholding the family tradition.
"My dad swam in high school and he really liked it, and whenever we [Anna and Sophie] tried it, we both liked it, better than any other sport we had tried, but it was mainly my dad," Sophie said.
Badillo, Anna and Sophie have worked towards becoming strong swimmers for 11 years, since they started swimming at the Coppell YMCA on the Coppell Cruisers, and it has never been easy for them.
"[Swimming is] a love-hate relationship," Anna said. "Some days you get up and you're just like, 'Why am I doing this, I've been doing this for the last 11 years of my life, it's so pointless'. But then there are days when you break records or achieve one of your goals and it's such a good feeling."
Beyond growing in physical strength, all three girls expressed a growth within themselves.
"Swimming is an interesting sport because it's taught me so many other things than just holding a certain pace or going a certain time, it's really taught me life skills and life lessons, so I think the most I've grown is in discipline, I can put that discipline into other aspects of my life," Sophie said.
Coppell swimming coach Marieke Roberts expresses pride for relay team for breaking the record.
"All three of these girls are very sweet and hard-working, very social, and interact a lot with their teammates," Roberts said. "[When they broke the record] It was fantastic. I wasn't expecting to come in and have our team produce a school record, and it kind of helped me get hooked on high school coaching because I had never done that before."
Anna and Sophie have decided this year will be their last season of swimming, while Badillo will be swimming for Oklahoma Christian University. However, while Anna and Sophia have chosen for this to be their last year, they will always remember the lessons they learned from swimming.
"Even though I'm not going to continue in college, I'm really excited to see what lessons I will still be using 30 years from now," Sophie said.
They have learned many valuable lessons as swimmers, and they hope to pass it on to other people.
"This is kind of cliche, but don't give up, and find what fulfills you," Sophie said. "For me swimming has really fulfilled me even though practices are rough or maybe I'm not happy with my team, but I always find that one feeling, the practice really makes it worth it, like whenever you get an unexpected best time, or your relay wins a really big accomplishment, so the fulfillment will come."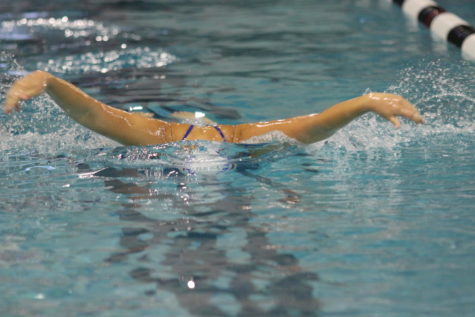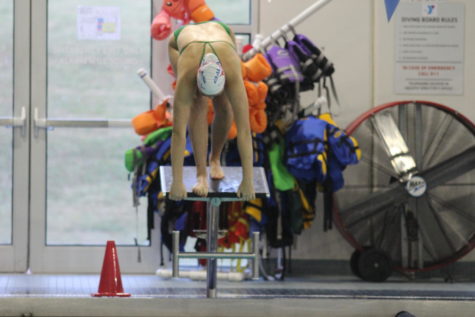 Follow Claire on Twitter @cclements825
About the Photographer
Karis Thomas, Staff Photographer
Karis Thomas is a senior and first year photographer for The Sidekick. In her free time, she enjoys spending time with friends and family, working on...