A new hope
Transcranial magnetic stimulation offers groundbreaking treatment to patients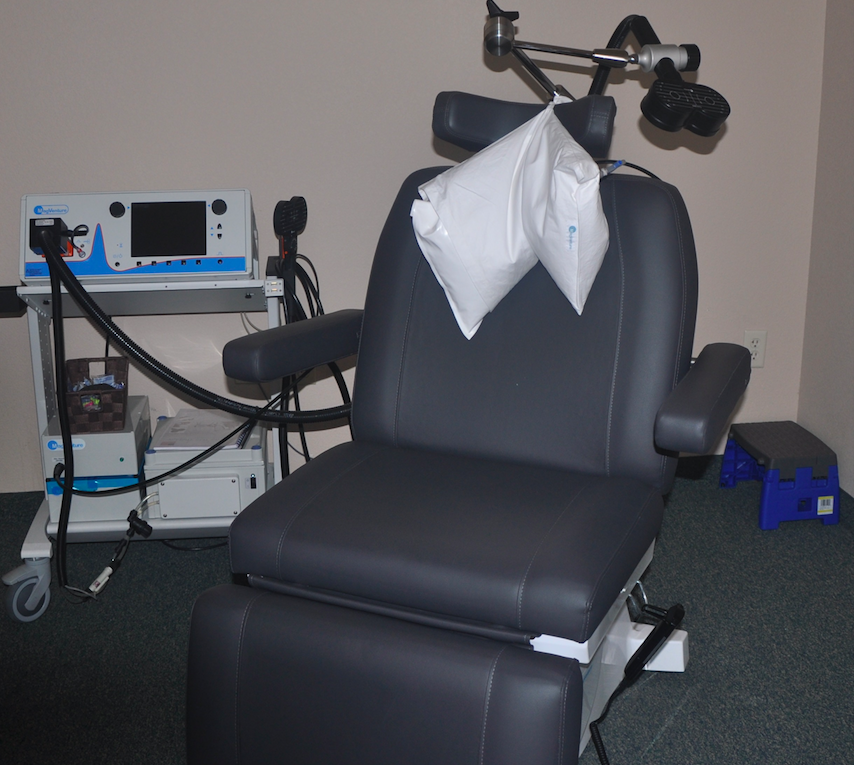 When Skyler Cook's mother told him about transcranial magnetic stimulation (TMS) he was skeptical. Cook's mother, a post traumatic stress disorder patient, had tried several treatment options for her condition, all to little or no avail.
"She has some pretty severe PTSD and anxiety, a lot of medications and therapies did not work for her," Cook said. "So I was kind of hesitant to think anything would work."
It didn't take long for Cook to see that TMS was different.
"She went through the treatment, and she kept telling me everything was great," Cook said. "I didn't really believe her until I saw her. She had gained weight, she looked healthy, I could see it in her face. She flew on a plane and didn't take a Xanax, which had never happened before. So that's when I knew that something had really changed in her dramatically."
Cook began researching the treatment, and eventually got involved in offering the procedure himself. Cook now works as a director of market development for TMS Neuro Solutions.
TMS is a six week long treatment, consisting of five sessions per week, each lasting about 35 to 45 minutes. During the sessions, patients struggling with mental illnesses such as depression or anxiety go through magnetic stimulation of a specific portion of the brain, allowing neurotransmitters to fire the way they are supposed to for a small period of time, giving the body a chance to adapt to a new, and correct pattern.
"[When] there's an underactivity of neurotransmission, things aren't firing the way they should," Cook said. "Everybody has a certain amount of neurotransmitters, so things like dopamine, norapronephrin, seratonin, all those things each one of our bodies has plenty of those. Unfortunately sometimes they just aren't firing the way they should. Normally it's an underactivity. So what TMS is doing is it's stimulating a certain portion of the brain, which allows those neurotransmitters to fire appropriately, and over a certain amount of time it creates a baseline of regularity."
At TMS Neuro Solutions, treatment has an 81 percent  success rate, with success meaning a patient experiences 50 percent or more improvements in symptoms they were experiencing. According to Cook, more than 50 percent of TMS Neuro Solutions patients achieve complete remission, with little to no side effects of depression or anxiety at all.
"The reason it's so effective is because your body is very malleable," Cook said. "So it's not like your brain is going to forget or get worse. So it really does a good job of holding its own after the treatment."
Treatment is offered to anyone who wants it, but insurance requires that a patient has tried other treatment options before.
"If we're utilizing insurance, we want to see that they've tried a couple of medications and they did not work, that they have tried some kind of talk therapy before, and that they are seeing a doctor regularly," Cook said.
Psychiatrist Nishendu Vasavada works at Lakeside Life Center in Carrollton, where TMS Neuro Solutions is offered, and has been offering the treatment for four years. He encourages patients to go through treatment as it is one of the few that does not involve extra medication.

"Anything else you can do to improve the chances of a patient going into remission where their functioning goes back to the original level of functioning is good for them, so this is one of those tools," Vasavada said. "There is no medication involved so the side effects are limited, you don't have the chronic weight gain that comes with medication. I've had some patients who do not respond to any medication, or partially respond to some. But when they take the TMS they get much better. For some people it's the only thing that pulls them out of depression."
One Coppell resident, John Doe, had a daughter go through TMS around nine months ago. He said that her outlook greatly improved after treatment.

"The most important thing was having an outlook where things could be improved," Doe said "The outlook, and feeling that there were ways to move forward and being optimistic."
Though he appreciates TMS and how it helped his daughter, Doe emphasizes the necessity of other care options that can help mental illness, such as nutrition, exercise and continuing pre prescribed  medication.
"Having the ability to have something other than just taking the pill every day is important," Doe said. "Having alternatives, and being able to have this as a resource, that's important. Nutrition, exercise, TMS, I think it's a combination of all these things."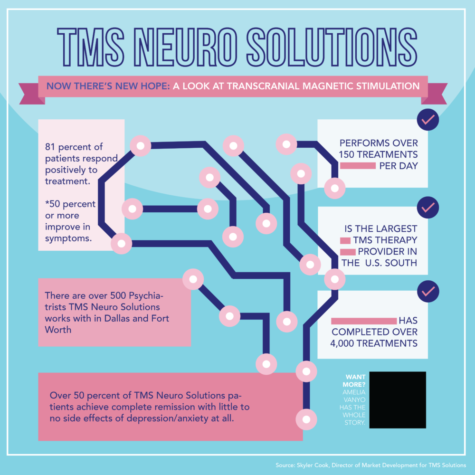 TMS is not a new treatment. In fact, it can be traced to practices that took place almost 70 years ago. However, the FDA did not approve the treatment until 2008, and it was not until 2011 that treatment really started becoming common practice in psychiatric offices.
"Unfortunately a lot of people don't know about this treatment," Cook said. "We do everything we can just to make sure people know about it. We help organizations [to grow], not just here in Dallas, but we help some companies in Houston and we help companies on the East Coast."
Six years later, the treatment is still growing and changing. According to Vasavada, the treatment is currently being used experimentally to treat drug addiction, autism, post traumatic stress disorder and chronic pain. 
Follow Amelia @ameliavanyo
About the Contributors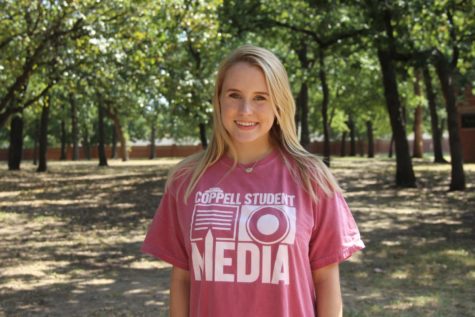 Amelia Vanyo, Editor-In-Chief, Executive News Editor
Amelia is a senior and has been a part of The Sidekick for two years. This year she is serving as the paper's Editor-In-Chief and Executive News Editor....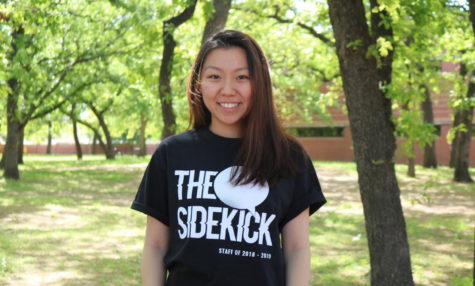 Kelly Wei, Editor-in-Chief
Kelly Wei is a senior staffer, serving her third year as Editor-in-Chief. In her free time, you can probably find her hiding out in a boba cafe with her...