AP Environmental Science ends school year with impactful projects, encourages camaraderie among students
Although AP exams are over, AP Environmental Science students are working just as hard with their Be the Change end of year service project.
"I think a lot of [students] have really taken it to heart," AP Environmental Science teacher Holly Anderson said. "They are excited to actually get to do something and see what happens."
Each class period is raising awareness and taking action for an environmental issue, such as improving in class recycling, finding a safe way to dispose of used batteries from math departments and decorating trashcans in hallways to be more noticeable or feeding wildlife.
"[The best projects] had a really good way of thinking of something they could do to get other people involved, but also thinking of something that actually needs solving," AP Environmental Science teacher Madhavi Phadke said. "Even if they didn't solve the problem, which wasn't the goal, it was really just to get them thinking of [feasible] solutions."
Be the Change is a whole class collaborative project as opposed to individual student or even small group assignment. This helps the teachers limit the number of projects they manage, maximizes the effect that each project has on the community.
"By the end of year we hope that the kids have become comfortable enough to be able to navigate this social structure," Phadke said. "Most of the kids are able to delegate jobs and it's kind of a kumbaya moment where they all come together and do something for the greater good."
It also provides flexibility for students to play different roles.
"There are several students who have really stepped up and taken it on [themselves] to move the groups forward," Anderson said. "There are some seniors, some juniors, some sophomores. It's just if they are passionate about it, they have taken it on."
In Phadke's sixth period AP Environmental Science class, students chose to create a Bring Your Own Brown Bag Lunch Day on Tuesday to encourage all CHS students to eat sustainable meals.
"Some of us made a website that tells others the need for eating foods that are more organic and fresh," senior Shayrin Oad said. "Others collected data about what food kids generally eat at CHS. My group made fliers to inform the faculty and students about the event and got information out through the announcements."
E-Waste Day, also on Tuesday, included students bringing electronic devices that they no longer used and wanted to recycle to the commons during seventh period. The incentive was a pizza party for the class that brought the most items for the drive.
Hugs4Jasso is an effort in which one of Anderson's classes arranged for every students that carpools to or from school on Thursday to hug Principal Mike Jasso, especially meaningful since these are his last few days with Coppell.
Another one of Anderson's classes presented to Jasso and district personnel to implement water filling stations on campus to reduce plastic bottle. The proposal will be evaluated further in the fall of 2017 and hopefully implemented by spring 2018.
"Most of the year in environmental science is spent talking about these really big issues and it seems really overwhelming," Phadke said. "For one person to go after them, it's very intimidating and unrealistic. To come at those issues as a class, it's more manageable. I really enjoyed seeing this process."
About the Contributor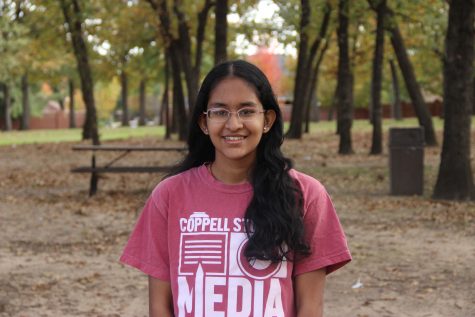 Akila Muthukumar, Staff Writer
Akila Muthukumar is a sophomore who loves writing, dancing and learning new things. You can contact her at [email protected]