The right fit: Hirpara chooses to study fashion in LA
Typical STEM, business and liberal arts majors did not pique Coppell High School senior Rakhi Hirpara's interest when she chose her major. Instead, the world of apparel pulled her towards a unique and artistic future.
Hirpara will be attending the Fashion Institute of Design and Merchandising (FIDM) in Los Angeles with a major in Merchandise Product Development. This major combines fashion design and business, allowing Hirpara to study how apparel and products develop from design to finish.
Interestingly, a trip to India in 2015 inspired Hirpara to go down this path and continues to drive her love for fashion.
"When I was in the sari bazaar, I saw that all the clothes were very pretty," Hirpara said. "It made me so happy. It's a really simple way to put it, but that's what it is. Nothing else makes me happier than seeing beautiful clothes. Our fashion is so ornate. There's a lot of glitter and bright colors. I definitely plan on incorporating my Indian culture into my clothes."
That sensation of joy is what makes fashion unique to Hirpara. She realizes that she will never feel that same happiness by choosing a career that does not tailor to her interests.
Hirpara's peers had no shortage of praise for her and her choice to pursue this field.
"I've [had] Rakhi for one year in Psychology and two years in Economics," CHS International Baccalaureate (IB) Economics teacher Jared Stansel said. "I think very highly of Rakhi. She stays true to herself and her beliefs, which I admire a lot in people. With her work ethic, with her level of intelligence, with her level of intelligence, I'm very optimistic about her future."
Hirpara's friends have no doubts either. CHS senior Sarah Sachak has a schedule in the IB program aligning with Hirpara's. She has seen her grow suit to the demands of this major.
"Rakhi is extremely creative," Sachak said. "I've seen her make sketches, designs and actually make dresses. She really has it in her to make really nice designs and clothes that will appeal to a lot of people of different cultures."
After deciding her major, Hirpara looked into colleges. FIDM is where she landed.
"I chose FIDM because it's in the heart of LA," Hirpara said. "Los Angeles is right by the Pacific coast, so there is easy access to Asia, where many materials are imported from. That made it a great location to connect with that side of the industry. Also, of course, FIDM is right by Hollywood, which is where so many designers are located."
Los Angeles marks a huge transition for Hirpara. After living in Dallas her entire life, the unknown city ignites excitement for something new.
"There's so much going on every day, all the time in LA," Hirpara said. "Of course, I'm excited for the beach and Hollywood, but I'm mainly excited to be independent and meet other people who have the same interests as me."
Undeniably, though, paths centered around the arts are risky. She acknowledges that it takes true dedication and more to be successful in these careers.
"Really ask yourself if you are willing to dedicate your entire life to the arts," Hirpara said. "It has to be something you love. You have to be excited to wake up in the morning. If you don't have that passion, then you won't want to work as hard. These are competitive fields. This isn't a degree that you can graduate with knowing that a job with a high salary will be waiting for you. A lot of this is based is off of risk and luck."
This is the issue many people have when deciding if pursuing an arts major is right for them. However, Hirpara states that the risk is worth it if it is what you love.
"But if this is what you love, go for it. Don't settle. Don't settle for something because you are worried you won't make enough money or because of what your parents or friends think. None of that will matter because in the end, it will just be you, and you need to be content with the choices you make," Hirpara said.
Stansel concurs.
"Following your passion is important, but prioritize your life choices," Stansel said. "Prioritize what you want out of a job. Don't follow your passion to where you are making minimum wage because that can lead to regret and depression. Have a plan, which Rakhi already has."
Hirpara made this choice, envisaging an ideal future for herself. In choosing this major, in choosing this college, she is able to say that she is truly making her dream come true.
About the Contributor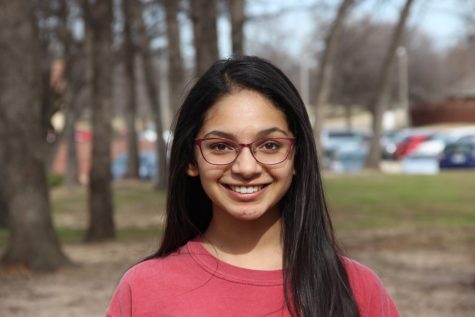 Rutuja Joshi, Staff Writer
Rutuja Joshi is a staff writer for The Sidekick. She especially enjoys writing articles in Opinions and Entertainment. A senior at Coppell High School,...