Senior pitcher, long ball carry Cowboys to district-clinching win
Although the senior night festivities wrapped up more than 15 minutes before the Coppell baseball team's matchup with Richardson, it was the seniors who stole the show on the field.
Led by seniors pitcher Trey Becerra and infielder Campbell Schultz, the Cowboys finished off the regular season with a 6-1 victory over Richardson at Coppell ISD Baseball/Softball Complex, securing the District 9-6A championship.
Schultz recorded three hits and two RBIs on the night, including a solo home run in the first inning that extended Coppell's lead to 3-0. He missed a second homer that bounced off the wall 400 feet from the plate dead centerfield by just a few feet.
"It means a lot," Schultz said. "You come out here, and [it might be] the last time you're ever going to be on this field. It's great to end it with a good game, to go out with a bang."
On the mound, Becerra shut down the Richardson lineup, throwing a no-hitter through 5.1 innings, until it was broken up by a ground ball that skipped over the third base bag. Becerra and pitcher Rye Gunter, who came into the game in relief and allowed one run in the final 1.2 innings, look to be key pieces in a solid group of senior pitchers that will lead the Cowboys in the playoffs.
"We have to have three starters and we have to have at least one or two relievers, so it's going to take five or six pitchers in a three game series," Coppell coach Kendall Clark said. "You have to have a lot of arms you can go to. We were trying to get them all worked."
Aside from Schultz, the Coppell lineup that has gotten hotter as the season has gone on was potent on Friday night. Sophomore centerfielder Blake Jackson smacked two homers and a ball that bounced off the top of the wall in right field that ended up as a single because Jackson waited at the plate, thinking it was going foul. Five of Coppell's six runs came on the long ball.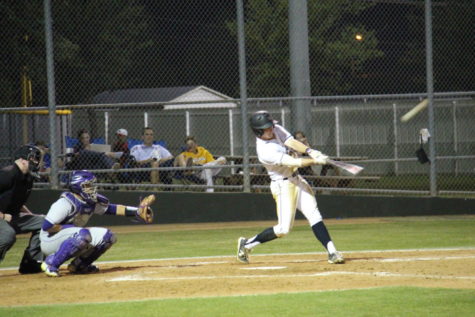 "Richardson gave us two good pitchers to face, and we hit them well," Schultz said. "It gives us a lot of confidence going into [bi-district playoffs], it's definitely something that's going to help us in the next series."
After clinching the district title with a win, Coppell plays District 10-6A's fourth place team, Garland Naaman Forest. The Rangers finished with a 14-14 record despite recording signature wins over solid McKinney and Wylie East teams.
"When we focus up, we're pretty good," Clark said. "We play pretty consistent ball. We got a lot of games and a lot of at bats under our belt, and our kids are pretty consistent and pretty solid."