Senior Round-up staffers win national contest for yearbook photos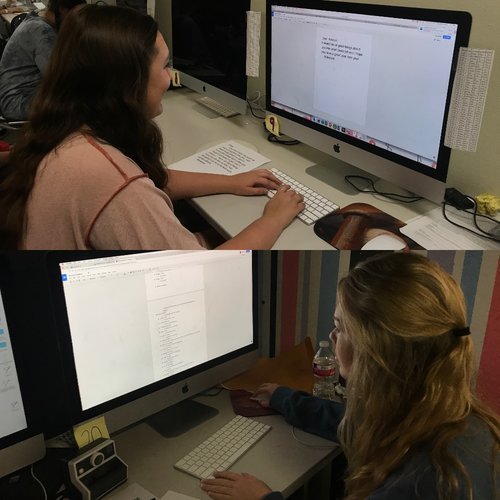 Last week, Coppell High School seniors Erin Dempsey and Mckenzie Hosier placed in the 2017 national Jostens photo contest. Both have been a part of Coppell High School's Round-Up yearbook for three years.
With 85 winners selected from more a pool of more than 4,000 student photographers across the United States, the competition was stiff.
According to Dempsey, this is the first recognition that CHS yearbook staffers have received in her three years in yearbook, making it very exciting news for everyone.
"I was very proud when [I found out]," Round-Up adviser Sally Harris said. "These are amazing photographers and I'm so glad they are getting recognized; their skills have been getting better and better every year."
Dempsey, an editor-in-chief, was awarded second place and honorable mention for two of her photos in the Sports Sideline and School Spirit categories. Hosier, senior editor, received Honorable Mention in the Sports Sideline and School Spirit categories as well.
"I was really excited to win," Dempsey said. "I've won awards before, but a lot of them have been in state competitions so this one was really cool because it was national and there's just so many photographers that enter."
As third year staffers, both seniors have learned a lot about photography throughout their years in yearbook.
"It's important to realize that everyone has their own photography style," Hosier said. "While you can learn from other people's photography, don't compare yourself to [them] so much because your photography is individual and unique."
The countless hours and photo assignments that have led them to this point have helped in perfecting their skills.
"Practice, practice, practice," Dempsey said. "You're not going to become a great photographer overnight. If you have a passion for it, just go for it. Anyone can learn: learn from other pictures, other people and practice."
Click here to see Dempsey and Hosier's awarded photos, as well as other photos that placed in the 2017 Jostens Photo Contest.
Follow Fiona on Twitter @fionakoshy10