Cowboys, Kodros blow past Raiders in landslide victory
As Coppell senior pitcher John Kodros stepped onto the mound, he knew it was his night to dominate.
And that is exactly what Kodros did. With six strikeouts and yielding just one hit over three innings, Kodros stuck to his fastball and led the Coppell baseball team to a dominating 17-0 victory over the Skyline Raiders on Tuesday night at the CISD Baseball/Softball Complex.
"I felt good," Kodros. "I really just used tonight to work on my command. I know that [Skyline's] ballclub isn't that strong, but I still had to treat it as a big game to prepare myself for the next few starts that are big games."
While Kodros' mentality focused on performing well despite the opponent, another aspect that he had to focus on was keeping mentally and physically in the game despite having elongated bottom half of the innings when the offense was scoring 5-plus runs.
"We tell them to play catch and throw the ball when the inning starts to get long," Coppell coach Kendall Clark said. "We want them to stay loose and be mentally in the game, which is hard when the game gets like this."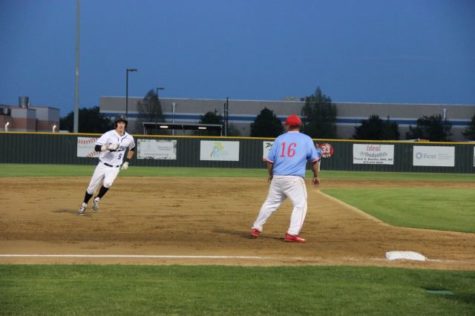 In the extended half innings for the Cowboys offense, they were explosive. Sophomore centerfielder Blake Jackson and senior designated hitter Austin Gross both went 2-for-3 with two RBIs, while Croft added three RBIs of his own. Senior second baseman Mason Holt even added some of his offense his own with three hit by pitches in three at bats.
"It keeps pressure on them, they can't just intentionally walk a guy and get out of the inning," Clark said. "Since a lot of our guys can hit, it makes them pitch to every hitter. Throwing pitches with guys at second and third adds pressure, and that wears a pitcher down, which is what we did tonight."
With a tight district race with Richardson Pearce and Jesuit, the Cowboys are looking to not only improve in every game, but to keep on winning, especially with only two games left in the regular season.
"Keeping winning is really important, we're only one game up on Richardson Pearce for first place, and we want to stay in first," Clark said. "We are looking forward also to our next matchup with Richardson, because we can go up against at least one pitcher that will be closer to a guy who we will see in the playoffs. We just want to get through this next game against Skyline and get into Richardson since they'll prep us a lot better."