Family owned coffeehouse to open in Old Town Coppell celebrates community, local history
Nestled in between a diner and a modest park in Old Town Coppell, a charming 20th-century style white house sits, brewing to be a new local staple for the community.
Planning to open in late spring 2017, the owners of GEORGE Coffee + Provisions have high hopes to provide an environment where family is welcomed and comfort is encouraged. In 2004, owners Christian Hemberger who worked as a Young Life Youth ministry leader for eight years, along with his wife Laura moved to Coppell.
Realizing their dream of making a family business could become a reality, GEORGE became a next step for their growing family.
"We've been thinking about owning a coffee shop since we were engaged and we've been daydreaming about it for years," Christian said. "Finding a place in Old Town Coppell was exactly what we had been looking for."
The name 'George' makes the coffee shop even more unique to Coppell, as its name came from three things that mean the most to the Hembergers, including commemorating the man who gave his name to city, George Coppell.
"It's like three [paths that came] together." Christian said. "George is family name, and the Greek meaning is [farmer], and we want to honor the cultivation by the coffee farmers. And we've always wanted to be distinctively local, like a gift to Coppell. We wanted it to not be our coffee shop but the community's, so when we found out the town is named after a man named 'George Coppell' it all came together."
The family is even living above the coffeehouse giving their sons Spencer (age 10) and Jett (age 4) a sneak peek of the business world while also living out the coffee house's goal of being a place of comfort.
"Our thought was what was something we could do as a family," Laura said. "We were very happy with his job at the church, I had the boys and we've always enjoyed doing something together. A coffeehouse vibe is different than a restaurant vibe and that's what we [want to provide]. It all blossomed pretty quickly."
The Hembergers connection to Coppell's Christian youth programs Young Life and Coffee Talk, led by Amy Weber, has given them a support system as the construction continues and hopefully a loyal customer basis.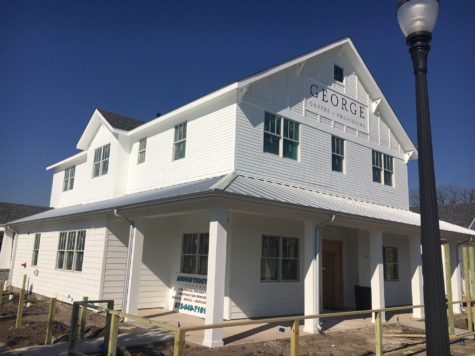 "They love the community of Coppell and are so Godly and have done so much for the community and the youth," Weber said. "It's going to be such an inspiring atmosphere and it will be such a great place to bring people together."
Originally planning on expanding on the Roots Coffee franchise, the Hembergers became more aware of what they wanted and decided to go in their own direction.
"We're friends with the owner of Roots and they had two locations and were planning on being the third Roots Coffeehouse," Christian said. "But their vision for their shop was a local shop and as you become a franchise and try to replicate that it takes away from it and takes away that personality."
The shop is planning to include two seating areas, a library where a small nook can easily become its own study room and a garden outside to match the quaint, simple vibes of Old Town Coppell. In addition to specialty coffees, the GEORGE menu plans to offer premium teas, wines, freshly baked goods, as well as seasonal foods sourced from the Coppell Farmers Market.
"We hope the community will embrace us," Laura said. "We're basically creating a place where we would want to hang out and just hope that the people will as well."