McIntosh overcomes previous losses to triumph in state wrestling tournament
As Coppell High School junior Lindsay McIntosh stepped onto the wrestling mat, it was a familiar sight for her. Euless Trinity senior Passion Hollins was her opponent, who McIntosh had seen three previous times during that season, losing to her all three times.
Yet this time, the outcome was different.
Three minutes into the match, McIntosh pinned Hollins and earned a third place finish in the 165-pound weight class of the UIL State Wrestling Meet.
"As soon as my match was done, I went over to watch my teammate's match," McIntosh said. "And after she finished she ran over to me and was so excited for me and that was really the first time I realized it. It still hasn't completely sunk in yet though."
As a junior, McIntosh wrestled against plenty of seniors throughout the season and the state tournament that had more experience than her. Of her five losses in her 33-5 season record, four of those five losses came from seniors.
"Since two of the three girls I lost to were seniors, since they'll be graduating, it'll hopefully be easier for next year," McIntosh said. "I know I can wrestle with the best, and my confidence will just keep on building."
With one last year of high school wrestling in the future, Coppell wrestling coach Chip Lowery thinks that there was benefits for her third-place finish beyond just the medal she got.
"It's great, it really sets us up for next year," Lowery said. "When you get down to the state meet, there's a lot of pressure, so it's great that she now has experience not only just being there but placing as well. Now we can try and make a push to be in the finals and maybe even win it next year."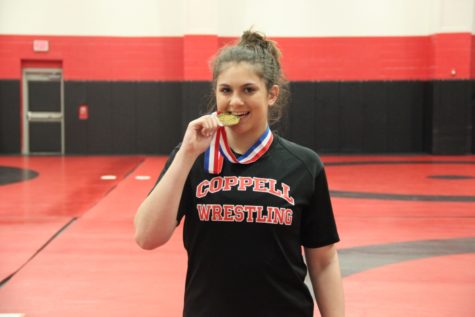 From last year's tournament to this year, McIntosh improved from being eliminated early to placing in the top three wrestlers in her weight class. Yet, according to Lowery, she also improved in a mental aspect of the sport.
"When [McIntosh] went to the state tournament previously, she really stressed herself out," Lowery said. "But this time, it was different. She came in and won her first few matches, and like coach Matt Smith said, 'she's got her swagger back'. She got confident with the more wins she got and we knew that she wasn't going to be denied from placing."
With placing, however, there were more ramifications than just on the individual podium. McIntosh's win against Hollins meant that Euless Trinity got second place overall as a team with 82 points, only four behind the girls overall team winner Katy Morton Ranch. The win gave McIntosh six points for Coppell, yet if McIntosh had lost, Hollins would have earned either five or six points depending on the result and it would have given Trinity the team title.
"I was sitting up in the stands with coach [Lowery] and he told me that if I had lost, Trinity would have won state as a team and I was shocked," McIntosh said. "Not only was it a good redemption match to win but the fact that I kept Trinity from winning state was pretty awesome."
Although many can see McIntosh's talent the second she steps onto the mat, she did not place third in state on talent alone.
"Her work ethic is crazy," sophomore teammate Madeline Rocha said. "She just knows what she needs to do to get to where she needs to be. If she needs to cut weight, she'll run up to the school for practice and run home. She also wrestled with the guys a lot. She's really determined, yet she also cares about the team as a whole; she's a great teammate."
With determination and hard work at the forefront of McIntosh's practice routine, Lowery thinks that her foundation that she has set for herself will allow her to succeed even more in the future.
"She can learn from the confidence that she built," Lowery said. "She knows now that she can compete at a high level, which is super important for her. Especially since her only losses were to the girl she beat in the third place match, a 5A placer, and the eventual state champion, she's wrestling at a really high level right now. She's set up for success next season."