Life's a "Picnic": Theatre department debuts UIL One Act play
Without leaving modern streets of Coppell, the audience members sitting the CHS auditorium were transported to the 1950s countryside of Kansas.
On Thursday night in the CHS auditorium, the theatre department performed its UIL One Act play "Picnic", which will be also be performed at the UIL competition. The cast and crew will be competing at Flower Mound High School tonight around 4:30 p.m.
The show takes place in a small town in Kansas on Labor Day, where the neighborhood is hosting a picnic. Vagabond, Hal Carter (senior Ty Dalrymple), arrives in town looking for a job while reuniting with his friend Alan Seymour (senior Seth Holst). However, things become complicated after Hal falls in love with Alan's girlfriend, Madge (junior Macy Johnson).
The performance began with Lisa Tabor, the head of the theatre department at Coppell High School, explaining the details of the UIL zone competition and how the process works. This trial run reflected the rules and process of the competition as the cast and crew have seven minutes to set up the stage, 40 minutes to perform the actual play, and another seven minutes to strike the stage.
"Competition is pretty tough in our area," Tabor said. "Usually someone from our district goes to state. At zone, it's one person's opinion. We don't have a panel of judges, so one person will decide out of five which ones he likes and those are the ones who go forward and for the other ones, that's it. You don't go any further in the competition.
"So, it's rough because you work on it for three months really really hard and you may be one of those that go on or it may be it."
The crew then started to set up the stage as one of the crew members timed them, ensuring that they would not exceed the time limit. The set consisted of two quaint houses set up next to each other designed to look like neighboring houses in a small country town. The backdrop reflected a beautiful sky and changed colors when the scene would change into the night.
All cast members were completely absorbed into their characters, effectively portraying their different emotions throughout their scenes.
From condensing a three hour play into 40 minutes to building the set, the group faced a variety of different challenges, as with any performance. Character development was also another aspect that was highly valued and emphasized in this play.
"It's always really hard to get the set up and down but also just really connecting with your characters. I think that can be a challenge in the beginning but everyone ended up looking deep into themselves and connected themselves to their character," said CHS junior Abbie Hall, who plays Helen Potts. "It really ended up making us a stronger community and have a better show."
The cast and production staff included students from all grade levels. For Dalrymple, this will be his final UIL competition.
"I'm very sad that this is my last One Act. However, out of all them I've done three out of the four but seeing all four of those, I can happily say that this one was my favorite. Not just because I'm a senior but everything about it, the play, the ensemble, all the people who are helping out," Dalrymple said. "It's really tied the little senior bow perfectly together."
About the Contributors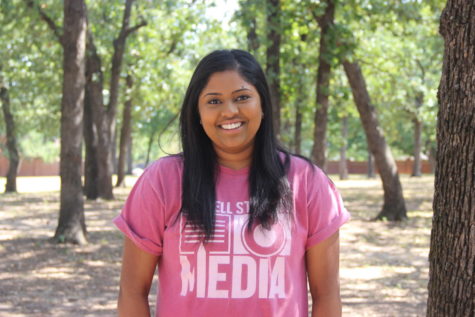 Sruthi Boppuri, Communications Manager
Sruthi Boppuri is a senior and the Communications Manager for The Sidekick. She is interested in art, movies & television, and visiting new places....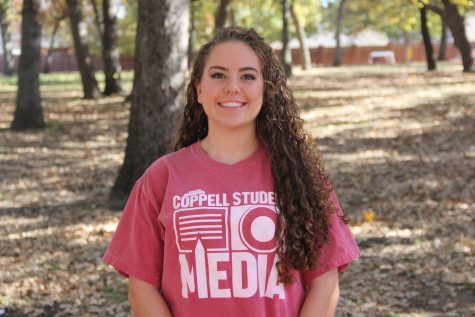 Hannah Tucker, Staff Photographer
Hannah is a sophomore at Coppell High School and is a first year photographer for The Sidekick newspaper. She is a second year member of the Coppell Color...