Mishra showcases bright mind, personality through educational Internet music
When one imagines a busy night spent studying, common thoughts and ideas are brought to mind: flashcards, review packets, lecture notes and vocabulary sheets are just a few to name.
Very few, however, would think of their favorite pop song. After all, there is obviously no correlation between a catchy tune and an upcoming test.
Coppell High School freshman Sushim Mishra would beg to differ.
Mishra has been creating educational videos on his YouTube channel Big Shim since the seventh grade. Specializing in biology and current events, his videos provide viewers with a stylistically unique approach to studying.
Rather than filming a slideshow presentation or long-winded speeches, Mishra has instead adopted his lessons into creative song covers. His video "All About The Plants" is a rendition of Meghan Trainor's popular hit "All About That Bass", for example, while Pharrell Williams' song "Happy" makes an appearance in a video about water polarity.
With 18 videos posted and approaching almost 100 subscribers, Big Shim has become a prominent media platform for Mishra to reach out to others in his own unconventional methods.
"A normal lecture would be boring, just sitting there and listening for 30 minutes," Mishra said. "I'd rather watch a video that's compiled [all the information] in four minutes."
The idea of establishing a YouTube presence first came to Mishra in the seventh grade, after a having created an informative rap song for a school project and recognizing potential in an activity that would combine film, music and education.
"I got the inspiration to start making rap videos, and [the channel] just kept going after that," Mishra said.
Biology plays a significant role in Mishra's life, mostly due to his mother, Richa Bhatt, who is a biology teacher at CHS and has fostered a love for the subject within him.
When creating a video, Mishra's first step is to select a song: one that is generally popular, catchy and easy to sing along to. From there, he writes accompanying lyrics that will match the tune and successfully convey the desired concepts and information, whether it be photosynthesis or heredity.
He then records his singing and rapping over a karaoke track in the application Audacity, before assembling his final product in the program Movie Maker, where film and song come together as one.
Many of Mishra's classmates and friends are subscribed to his channel, if not at least occasional viewers. A glance at his comment box underneath almost every video shows students' supportive and encouraging stance on the content he puts out.
"I've watched a couple of his videos," CHS sophomore Andrew Pease said. "They're quite funny. I think he should continue making [content]."
The energy and humor Mishra displays in his creative videos also translate clearly into his every day real life.
"He definitely brings life into the classroom," CHS English teacher Joy Han said. "For instance, there's a friend he waits for every day to [jokingly] scare him on the way to class – just eccentric little things like that."
For all his jokes and gimmicks, however, Mishra is a deeply passionate and curious individual who genuinely enjoys learning about the world around him. Already juggling two AP courses as a freshman, he is an academically driven student to say the least, and certainly one with big and bright things ahead of him.
"[Mishra] loves to ask questions – you can tell he's very interested in the topics we cover," CHS AP Biology teacher Jennifer Martin said. "Sometimes he'll hang out for a few minutes after school to talk [about] biology."
As for the future of Big Shim, Mishra plans on further improving his channel by moving away from karaoke tracks soon and instead creating his own original ones using the program GarageBand. He looks forward to expanding his channel and increasing in both views and subscribers.
Follow Kelly Wei @kellylinwei

Hang on for a minute...we're trying to find some more stories you might like.
About the Contributor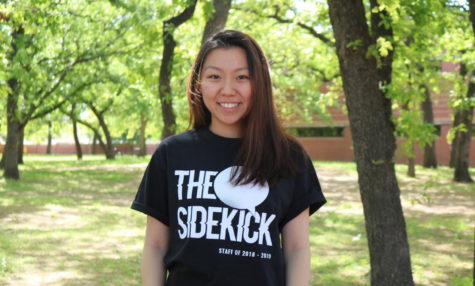 Kelly Wei, Editor-in-Chief
Kelly Wei is a senior staffer, serving her third year as Editor-in-Chief. In her free time, you can probably find her hiding out in a boba cafe with her...