Initial offensive burst not enough in first tie of season
Joseph Krum, Executive Enterprise Editor
February 22, 2017
As the horn sounded, cheers filled through the air. One streak was ended, yet another remained intact.
In a 1-1 tie with Richardson Pearce at Buddy Echols Field on Tuesday night, the Coppell girls soccer team allowed its first goal of the season, snapping a 14 match shutout streak. Yet the Cowgirls (13-0-1) keep their unbeaten record intact heading into the final six matches of the regular season.
"It's super important to keep our record perfect to us as a team," Coppell senior forward Baylee Hux said. "It gives us motivation, but also within that, we can't become complacent, and let matches get close. Pearce was a good team, but we have to step up and play well no matter what."
Hux and the Cowgirls put the attack on Pearce early, with Hux scoring on a cross into the box in only the second minute of the match. Throughout the rest of the first half, the Cowgirls kept the pressure on the Mustangs, yet could not come up with another goal.
"In the first half and in the first 15 minutes, we played great," Coppell coach Ryan Dunlevy said. "We came out and imposed our style of play on them."
Yet the second half was a different story, especially for Pearce. Early on in the second, the Mustangs held most of the possession on Coppell's side of the pitch, and put a couple of shots on goal. Being held to playing defensively to an attacking team was not a sight that Coppell has seen much of, and 10 minutes into the second half, Pearce squeaked one past senior goalkeeper Maddie Weber to tie the match at one.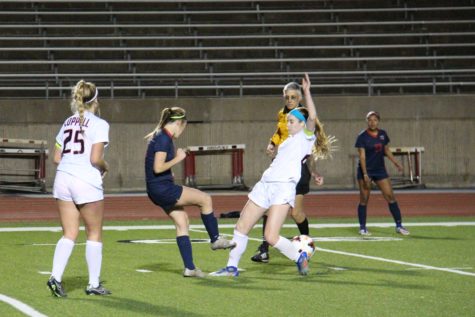 "In the second half, we changed our style and responded to their pressure different than how we should have, and that led to the goal," Dunlevy said. "But then we started hitting our rhythm and our stride and got some great looks on goal, including one that hit off the crossbar and another where their goalie made a great effort."
Aside from 1-0 win over Pearce on Jan. 27 earlier in the season, the Cowgirls have only had two one-score matches, 1-0 wins over Byron Nelson and Grapevine. While Coppell was in unfamiliar territory after allowing a goal for the first time of the season as well as having a down-to-the-wire match, Dunlevy thought that the team did well in the situation they were in.
"The girls showed their true character tonight," Dunlevy said. "It's easy to show great character whenever you're winning by three or more goals. But when diversity hits you in the face, you're asked how you will respond. And tonight the girls responded exactly how they should."