After 10 years of development, Cowgirls find their place in district playoffs
You would think that you would eventually get tired of it.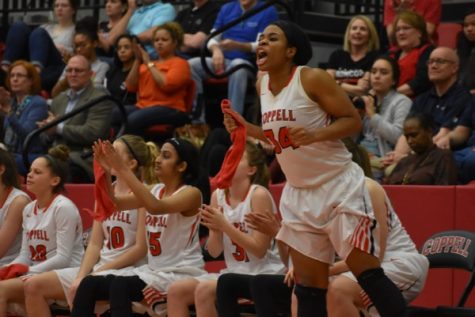 The 5:45 a.m. wake up call, the conditioning drills, two-a-day practices. You would think that even athletes would want to complain. But when the thing you've been working for finally comes to the surface, you have more energy than ever before.
And for the first time in 10 years, the Coppell Cowgirls  basketball team advanced to the playoffs.
The effort this team has put in is as much mental as it is physical. Performance Course, scrimmages and team dinners, the mindset of this team has been created from hours of dedication in and outside of practice.
"They've all made it worth it," Cowgirls coach Kristen Davis said. "They're still growing but the growth I've seen has completely changed what we see on the court."
The Cowgirls' season came to an end on Monday with a 47-31 loss to Sachse in the Class 6A bi-district playoffs. Coppell ends its season 19-13.
From Davis' first practice last year for the 2015-2016 season, to the team's last district gamea week ago, there is one definitive difference that the entire program can agree on: chemistry.
"In the beginning of the year we were determined to make a difference," Davis said. "Last year, we were met with some resistance but I think now the girls are on each other's sides and know that I'm not looking for stars, just a team that can play together.
Seniors forwards Chidera Nwaiwu and Abby Johnson, along with senior guards Rachel Crutchfield and Emma Johnson have been on varsity since freshman year. Not only have they seen a difference in team chemistry, but as a team, they know their team has their back and are willing to prove it.
"We actually like each other," Nwaiwu said. "As weird as it sounds, our team chemistry has grown so much and we're not playing selfishly anymore. We do what we need to do, and aren't interested in making a play for ourselves."
This transformation the team has gone through in the last two years proves how important team encouragement and loyalty are to encapsulating what it means to be apart of a team.
"I know that it will be hard next year when the seniors leave, but I feel like what [the juniors] have gained this year is making a difference," junior forward Rachel Okereke said. "I know how to do my part so now it's just about playing as a team."
In the past 10 years, Coppell girls basketball has never had the attention on it when it comes to a reputation in Coppell sports. However, in just the past two seasons, Davis has been able to transform a "broken team" to one who has enthusiasm for the game and to compete.
"I've seen all of grow so much in the four years I've been on the team," Nwaiwu said. "Not just our team chemistry but our skills and ability to handle the ball in high stress situations. Because we all know we're playing for each other, it's easier to just play the game."
For a team to compete as well as the Cowgirls did this season, each player has to have the willingness buy into a program completely. Two years ago, Davis said, "What makes a good team is just that, 'team'." Today, each girl understands what it means to be apart of this program and what they should lead with for years to come.