Play of Skyline guard too much to overcome in blowout loss
At 6'5", 180 pounds, Skyline senior point guard Marcus Garrett is a matchup nightmare for any opposing guard. On Friday night, his combination of length,  a smooth shot and a deadly crossover was on full display, as he helped the Raiders to a 64-45 win over the Coppell boys basketball team in the CHS arena.
Garrett, a Kansas signee, has led Skyline (26-1 overall, 10-1 District 9-6A) on its current eight game win streak. Against Coppell (12-9, 6-5), he scored 21 points in the victory, including nine in just the first quarter. But the most remarkable aspect of Garrett's offensive ability is not in his scoring.
"His ability to pass," said Coppell coach Kit Pehl, of the biggest matchup problem Garrett poses. "He's just so big, he can see over. We were in decent position, and he can just see over everything.
"His ability to pass and the length to make it happen is what hurts the most."
Throughout the night, Garrett, usually defended by Coppell sophomore guard Tariq Aman, would use his size and burst to get into the lane, forcing another defender to rotate over and help. Because this generally left a teammate wide open, Garrett almost always found the open man for a good look either underneath the basket or at the 3-point line.
In that first half, particularly the second quarter, his distribution technique worked to perfection, and the Raiders were able to connect from deep, drilling five 3-pointers in the quarter.
"We've been moving the ball pretty good, and we've been shooting really good," Garrett said. "We're starting to make free throws, and were starting to play better as a team."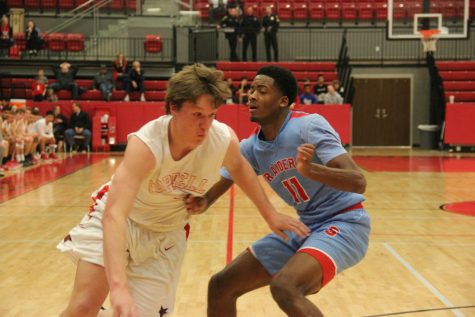 After the second quarter barrage, Skyline took a 36-21 lead into the half. The Cowboys, however, would not go down quietly, thanks in large part to the play of Christian Plummer. The senior guard had one of his best shooting nights of the season, scoring 16 points, including four 3-pointers.
"Offensively, we're really not that bad," Plummer said. "(Tonight,) they were just a little bit better. We just had to overcome what they could do, and just keep playing."
As well as Plummer and others were shooting the ball, the athleticism and size of the Skyline lineup limited what Coppell was able to do offensively. It was difficult for the Cowboys to work the ball down low, as often passes to the paint were tipped or blocked.
"We knew what we were up against," Pehl said. "It is what it is. Their ability to be long and take away what you want to do, it makes it tough."
Heading into the home stretch of the season, the Cowboys currently sit in a tie with Richardson Berkner for the fourth and final playoff spot in District 9-6A. In the final three games, Coppell plays against Richardson, Richardson Pearce and Lake Highlands, three teams whom the Cowboys have already defeated previously this year.
"It was good to see Christian get his shot back," Pehl said. "That is what we're most excited about."
"We need to win two of our last three to have a chance, and three of three guarantees us a playoff spot. We have our work cut out for us."