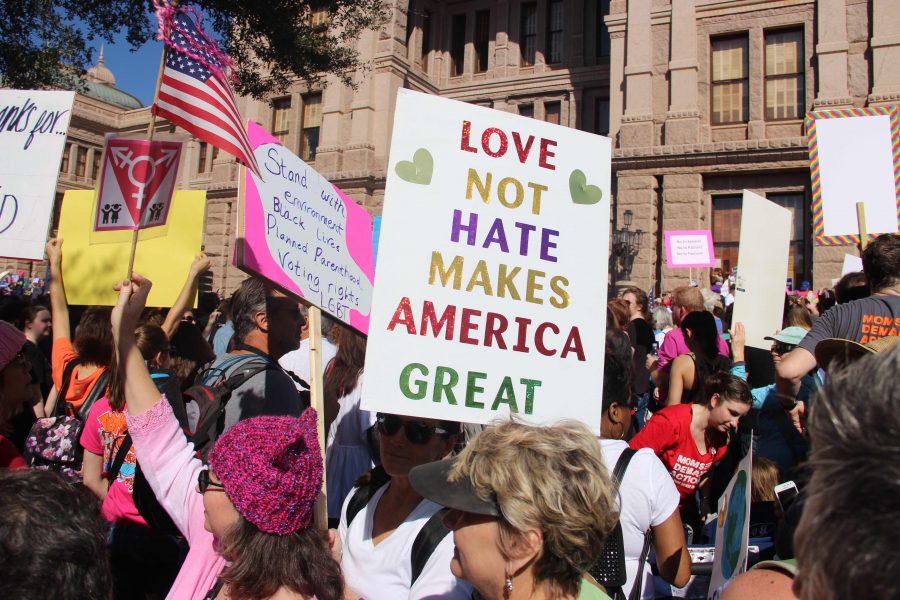 Big protest brings bigger success: March succeeds in giving women strength for next four years
Big protest brings bigger success: March succeeds in giving women strength for next four years
January 31, 2017
While the pink hats, shirts, scarves and faces that filled the streets of our nation on Jan. 2 were a lovely shade of peaceful rebellion, the pink understated the red hot anger that filled the hearts of women and men across the globe.
Women filled the streets to protest the inauguration of President Donald Trump who is notorious for belittling women.
The women's march filled the streets, with an estimated half a million in attendance in Washington alone, it was three times more populated than President Trump's inauguration. But still, there is a demand to know what was accomplished.
So what did come out of the march? While some may argue nothing, a voice, a coalition and a great deal of hope is hard to dismiss.
Marching is the way to say something back to the deprecating, painful rhetoric that came from the man that now heads our political system.
Throughout a painful election cycle and a stomach churning inauguration, women have had to listen to a man who treats them like objects. Objects that he now gets to dictate with laws that we have no say in.
But that does not mean they have nothing to say.
So the marches are women's chance to speak their mind, regardless of if anyone listened. They were their chance to say "yes" to the reproductive rights that they may lose, their way to say "no" to a worth based on looks and "yes" to a worth based on intelligence and persona, their way to say "no" to domestic violence, their way to say "no" to catcalls and "no" to the man that robs them of their future when they are raped.
It was their way to say "no" to Trump.
And while that might not accomplish anything visible or tangible, while the wage gap still exists and women are still only as good as they are good looking, and tampons still are taxed and girls still get called at, while women are still raped, and then told it's their fault, and while Trump is and will continue to be our president, sometimes you just gotta let it out.
And millions of people sure did let it out.
It was a way for women to find support in the people around them.
For many women, minorities and members of the LGBT+ community, the next four years may feel like nobody has their back. The feeling of having the government against you is terrifying, to the point where hope can be lost completely. But realizing that you are not alone, that there are people who are as lost as you that you can lean on for the next four years is the stability some people need to feel safe and comfortable. The march gave these people hope that the world as they knew it would not leave them alone and afraid.
It was a reminder that not all is lost.
The world might not yet realize it, but women are not backing down. We are not going to sit while we are told we are equal but not treated as such. We are not going to sit down while the nation works against the demands of its people. We are not going to sit down while Trump is president.
The marches reminded women and men that people still care, even if our government does not and that on some level, understanding that simple fact is integral to making it through the next four years without losing sight of what we stand for.
We did not change anything except the outlook we have on the next four years, and though it will be hard, and though we may have to fight for our rights, the march reminds us that we have our voice, we have each other and we have hope.
And with that, we will accomplish more good than Trump will throughout his presidency.
Follow Amelia @ameliavanyo