Heartbreaking loss gives Cowboys first round troubles
Joseph Krum, Executive Enterprise Editor
January 28, 2017
EULESS- It just squeaked right by.
The final shot in Friday night's 2-1 overtime loss for the Coppell hockey team barely snuck past senior goalkeeper Ethan Williams to give Frisco the win in the first round of the Texas Amateur Hockey Association State Tournament.
Despite the last goal, Williams put up a superb effort, keeping the Cowboys (10-2) in the game by blocking many of the breakaway shots Frisco (12-1) got and even posting a .953 save percentage for the game, a few ticks higher than his .914 season average.
Fortunately for Coppell, it will have another chance to move on and redeem itself at 11 a.m. at the Frisco Dr Pepper StarCenter against McKinney Boyd (9-1), who the Cowboys had split the season series 1-1 with, with a 4-0 loss on Sept. 11 and a 2-1 win on Oct. 27.
"[Williams] played really well," Coppell coach Cosmo Clarke said. "Even though he got beat on that last shot, he had a solid effort throughout the game, he did well."
With the exceptional play from Williams and the whole Coppell defense, Frisco was held to no goals until halfway through the third period, in which they answered senior forward Roope Raikaa's shot 30 seconds later with a goal of its own. But throughout the game, the defense for the Cowboys was able to limit the opportunities for Frisco to get a shot on goal, which in turn led to the low scoring effort.
"This game was a slugfest really, and whatever defense held up to the end won, and that was them," senior defenseman Parker Noell said. "But now we have felt the speed of the game and know the level that we have to play, and using those will be key in our game tomorrow."
The Cowboys, who average 5.4 goals per game, struggled to get many quality shots on goal, only producing 24 to Frisco's 34. Even on some power plays, where they would have a one-man advantage, the goals were scarce.
"Something we struggled with was getting guys in front of the net offensively," Clarke said. "Whether we can do that or not is where games are won or lost. But we also didn't play physical enough, especially on their top players, which hurt us as well."
For Coppell, they have a quick turnaround to their game against McKinney, where the stakes are at an all-time high: it's win or go home for the Cowboys.
"We just want the guys to remember the mistakes they made [Friday night] but not to dwell on the loss," Clarke said. "It's playoff hockey, and it takes your best effort every time. Hopefully the guys will get some good food and good sleep and come back to the rink tomorrow with a good attitude and we'll go from there."

Hang on for a minute...we're trying to find some more stories you might like.
About the Writer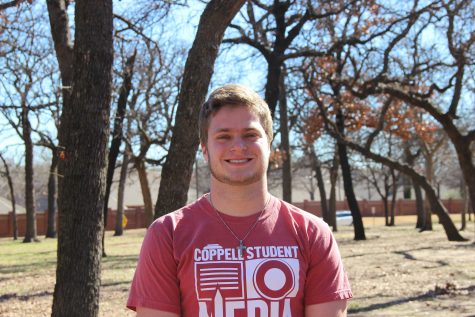 Joseph Krum, Executive Enterprise Editor
Joseph is the Executive Enterprise Editor on the Sidekick Newspaper and he also plays football for the high school. Joseph is a senior in high school...