Giving back during the holidays
With the annual flooding of school halls with Christmas music and decorations it is easy to forget the spirit of giving that should come with the holiday season. However, the world's problems may seem too vast creating uncertainty about how to start solving them. Here is a narrowed list of DFW based charities and organizations you can donate to and volunteer at this season.
Benefitting victims of family violence The Family Place provides them with housing, counseling and assistance. They have a Resale shop where clients can purchase clothes, furniture or other household items. You can donate gently used items to the shop by contacting the shop manager or dropping the items off at the shop at 11722 Marsh Lane, Suite 354 in Dallas.
This organization provides meals to the elderly or others in need through home delivered meals, luncheons or events. They work to relieve hunger and eliminate isolation within communities and have no age or financial requirements for those it serves. Their store Sadie's Upscale Consignment and Resale gives all proceeds to the organization's home delivered meals program and accepts donations of furniture in good condition and name brand or better label clothing. To donate, make an appointment by calling (817) 490-0191.
A nonprofit agency which provides homes for families struggling with homelessness and poverty, they provide interior design to the homes to inspire clients to maintain a standard of living. By donating money at the agency's website, you can help provide household items such as bedding or pots and pans for families in need.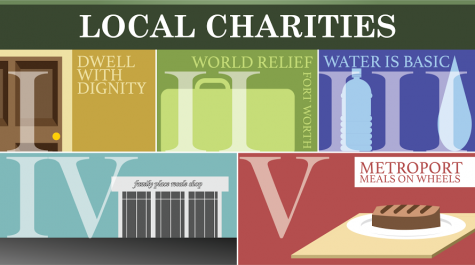 According to its website, this organization partners with several local churches to help refugees "transform economically, socially, and spiritually". The organization accepts donations of household items which can be picked up from your home. You can also purchase a "Welcome Kit" which include basic household items for newly arrived refugees.
By drilling wells for reasonable access to safe water, this organization provides clean water to people in South Sudan. You can help fund the projects by donating on the website or visiting its online shop where you can buy paintings or a T-shirt.
The Stewpot, located on 1835 Young St. in Dallas, is a shelter for any homeless or at-risk people in Dallas. This organization, established by the First Presbyterian Church, offers a variety of resources such as shelter and food, as well services such as art programs and therapy. The Stewpot welcomes volunteers all year, as there are a variety of ways to lend a hand. Volunteers can donate to the program, sponsor a portion of the cost for meals provided to the hungry or volunteer directly. Within volunteering, one can prepare food with meal service preparation, help out in the various youth programs or directly work with those in need through countless programs. There is also office work, pickup and delivery, as well as writing for the Stewpot publication, Streetzine.
Texas Scottish Rite Hospital for Children
The Texas Scottish Rite Hospital for Children (TSRHC) cares for children with orthopedic conditions, sports conditions and certain neurological disorders. It is located at 2222 Welborn St. in Dallas. The hospital greatly appreciates any donations, which will go towards supporting funding procedures for many children, as the hospital does not receive any state or federal funding. Donating toys, books, games and other trinkets can brighten up a child's day and put their mind at ease during their stay at the hospital. Children who have to stay at the hospital for longer increments of time appreciate gifts such as these, especially during the Christmas time.
The Coppell Humane Society, located at 821 S. Coppell Road in Coppell, welcomes volunteers of all ages to come and help out the animals. At the Adopt-A-Pet Events, volunteers can help set up, facilitate throughout and clean up the event. For these events, the humane society could use volunteers to help unload and load materials and animals to and from locations. Writers are welcome to write the newsletters, and trainers can come and come teach pet's basic proper behavior and commands for animals to be more adoptable.
The Senior Source, located at 3910 Harry Hines Blvd. in Dallas, is a nonprofit organization aiming to improve the lives of older adults. The company has specific services in job searching, nursing home assignment and counseling, creating many opportunities for volunteers to lend a helping hand. By joining the Advocacy Group for Elders (AGE), you can assist in solving issues that directly impact the older citizens of Dallas. Many of the elderly in nursing homes could really use a visitor to make them feel less lonely, especially during the holiday season. Visitors can assist in activities such as bingo and holiday parties, reading, bringing a pet along(must have permission from facility) or even just starting conversations to keep the elderly company.
Dallas Life is the largest homeless shelter in North Texas, where the homeless people of Dallas can come to seek shelter and begin a path towards independent living. The Dallas Life organization has a plethora of volunteer opportunities all year and is located at 1100 Cadiz St. in Dallas. From birthday parties, counseling and donation drives, to mentors, meal servers and tutoring, the Dallas Life organization appreciates all of the help it can get. During the holidays, volunteers can help with the Christmas meal service, Christmas Toy giveaway and getting involved in the various parties that come with the holiday season.
Donate old or unused items
This idea does not directly apply to a particular organization, as giving away old or unused items can mean a variety of things. Local food bank accept canned goods, your local Salvation Army or Goodwill will take all kinds of items and there are plenty of clothes drives that will give your unused hats, gloves and coats to those who need them to stay warm in the colder months. There are many organizations, online and brick-and-mortar, which provide easy ways for you to give back to others.