New club provides volunteering, student leadership opportunities
Reza founds organization Coppell Be The Change
Coppell High School offers students countless opportunities, academic and extracurricular. Senior Masrur Reza took the initiative to go beyond just using the school's existing resources; he created his own organization named Coppell Be The Change.
"[The club] is dedicated towards making the world a better place by joining the fight against world hunger through community service," Reza said.
CHS librarian Lynn Hevron is excited to be the sponsor for his club.
"I worked with Masrur fairly closely for the last year, because he has been very involved in putting this club together," Hevron said. "He has some strong feelings and convictions about how this club can be meaningful and I wanted to be a part of that."
Reza's motivation came from his unique perspective gained through travel; he has lived in London, Bangladesh, New York and other parts of Texas.
"This is my fourth high school," Reza said. "Due to different circumstances, we [my family] had to move from different states and countries. I got to know people from places around the world. I learned about their culture, experiences and most of all, the hardships they faced in life. This changed my outlook on life and made me want to make this world a better place. This is why I started this in-school organization."
Sophomore Ishita Rastogi is part of the officer team. Currently, they are in the process of delegating specific positions.
"I want others to be aware of the many places you can volunteer through this club," Rastogi said. "It's a broad club in which you can explore and see what you want to pursue. As an officer, my role is to spread the word about this club so that others can take advantage of this opportunity. I help lead club activities and talk to non profit organizations for more volunteering opportunities."
One of Reza's primary goals is to inspire his members to return after the first club meeting and be actively involved in all the events the club offers. The officers are planning multiple activities to last until the end of the year.
"Unlike any other club, we plan to keep our members on their toes throughout the school year," he said.
There are three major events: member recruitment, words of wisdom and a protein drive planned for October. During words of wisdom, members have the chance to meet with a motivational coach and Harvard graduate, Tamam Waritu, for free.
The protein drive will support the club's partner, the North Texas Food Bank, by providing canned foods.
Ultimately, Reza wants to leave a lasting impact on the school and the club's participants.
"Our main goal is to create leaders among our members, who can go out and change the world one day," Reza said.
For more information or to join Coppell Be The Change, contact Masrur Reza at [email protected].
Follow Akila @akilam29
About the Contributor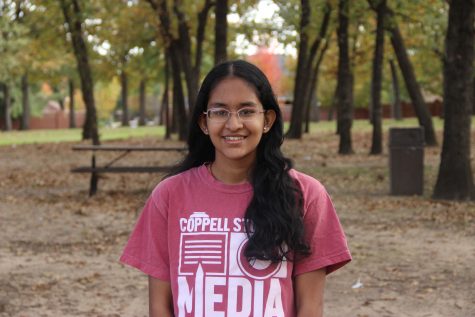 Akila Muthukumar, Staff Writer
Akila Muthukumar is a sophomore who loves writing, dancing and learning new things. You can contact her at [email protected]