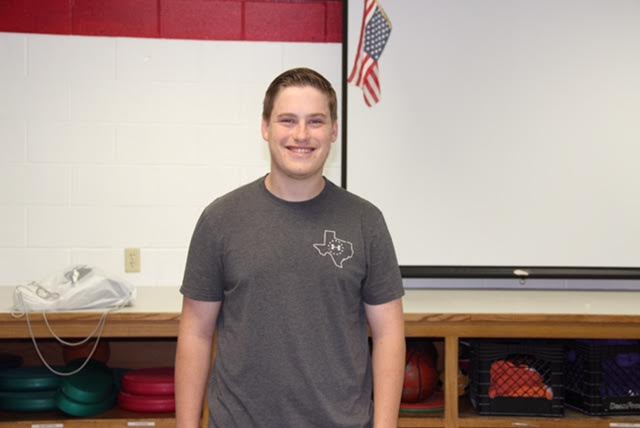 View from the sidelines; Ballard leaves legacy in sports medicine program
May 19, 2016
Faced with the choice of course registration for freshman year, senior Nathan Ballard saw an opportunity to stay involved in one of his favorite things, even if it was in a way he did not expect.
"[As] an eighth grader I was really small, and I knew I couldn't play football," Ballard said. "But I still wanted to be involved in sports."
Sports medicine students are often seen as just the waterboys that use it as easy out of a P.E. credit. But these misconceptions could not be more false, as the dedication and time commitment plays in with their everyday lives.
Spring football practice starts at 6 a.m. for players, but student athletic trainers are on the field by 5:15. With after school training for athletes, the dedication the student trainers like Ballard have shown for the past four years is far more deserving than the title of "waterboy."
"He's really knowledgeable about what he does and likes to watch and learn new things," junior trainer Sage Smith said.
Smith has been in the program since her freshman year, and has been by Ballard's side, even before high school.
"We've been friends forever. He's the type of person you can ask a question and can expect an answer, and he's really good in a crisis which is really important to do this," Smith said.
Witnessing the level of professionalism Ballard demonstrates on a daily basis, coach Barry Jones has created a connection with Ballard that started his freshman year.
"When Nathan was freshman we could tell he was special," Jones said. "He was outgoing and hardworking. He's so responsible and knows what he needs to do and is a great leader."
After graduation, the bandaging and 5 a.m. wakeup call will come to an end. Although Ballard is not continuing on with sports medicine or physical therapy, the leadership skills he has learned made the decision to attend The Citadel.
The Citadel, a military college in South Carolina, will provide Ballard with a way to say connected to what helped him become a leader these past four years and the legacy his family has created.
"I've always wanted to go, and I needed a backup plan in case I did not get into the Naval Academy, and it just worked out," Ballard said. "My father was in the Navy and I felt like I just wanted to serve my country."
Being on the sidelines for four years has exceeded Ballard's expectations, and proved to Jones and the entire sports medicine program that his commitment to this program will continue to have a lasting impact.
"[Ballard, Smith and myself] worked very close together on the soccer tournament," Jones said. "They made that part of my year and the whole year very special one of my favorite parts. It's just not going to be the same without him."