King of the hill
Senior standout's Game 3 gem advances Cowboys to regional quarterfinals
May 15, 2016
PLANO –  As Coppell coach Kendall Clark took the ball from his hands, a defeated look took the face of senior pitcher Charles King. In the final inning of his no-hit bid, King had walked four batters and allowed a run, prompting Clark to pull him with one out left in the game.
But then, something changed. A defiant look washed over King's face, and he turned around from his walk back to the dugout, stepped back onto the mound and grabbed the ball back from Clark. He got the last batter to ground out, finishing off the rough seventh inning, his no-hitter, and the playoff series, as the Cowboys won Game 3, 6-1, over McKinney Boyd at Plano West to clinch the Class 6A Region I area playoff series.
"It's just an awesome win for the team," King said. "Game 3, I had a job to come in here and win us a ball game. You never expect to come in here and throw a no hitter. It kind of just happened in the process."
Coppell advances to face Flower Mound in the Class 6A Region I quarterfinals.
In his no-hitter, King struck out only five but made quick work of the Broncos in most innings. Although he struggled with walks in that seventh inning, he had command of his fastball throughout the game, and got outs when they needed them most.
"Chuck was exactly what we thought he would be," Clark said. "He was overpowering. He had a really good fastball, and he had a really good curveball today. He mixed his pitches well, kept them off balance."
In that seventh inning, even through his struggles and inability to get calls from the umpire on balls low in the zone, King was able to stay mentally tough and get out of the jam he created. When he walked back onto the mound after being pulled, all Clark could do is hand him back the ball and smile.
"He talked me out of it," Clark said. "I didn't want to pull him, but his pitch count was getting up. When you walk some guys, you go from 87 then all of a sudden you're up over 100.
"He's just a competitor that wants to finish it himself."
King's masterful performance came at the perfect time for Coppell, charging life into the offense with each inning of no-hit ball. The Cowboys bats came alive in each inning, with junior outfielder Cody Masters finishing 3 for 4 and Ray Gaither going 2 for 3 with two RBIs.
"[Ray is] another really good, intense player," Clark said. "He brings a lot of energy to the team, a lot of high-level ability, a lot of skill. When those guys get clicking, the whole team gets going."
No matter how hot the bats are, how well the other team is hitting, when a pitcher absolutely overwhelms, dominates, throws lights out ball as King did Saturday, there is no stopping him. King's incredibly gutsy performance in a crucial win-or-go-home game is one that could provide some needed momentum to carry this team to a deep playoff run.
Cowboys extend series with Game 2 rout
By Meara Isenberg
Entertainment Editor
McKINNEY – At the top of the third inning of Game 2 of Class 6A Region I area playoffs against McKinney Boyd on Friday night, Coppell's Ray Gaither stepped up to the plate. With one swift swing, Gaither launched the ball over the left field wall, bringing in two runs and creating the momentum that would lead to a convincing 10-2 victory at McKinney Boyd to force a decisive Game 3.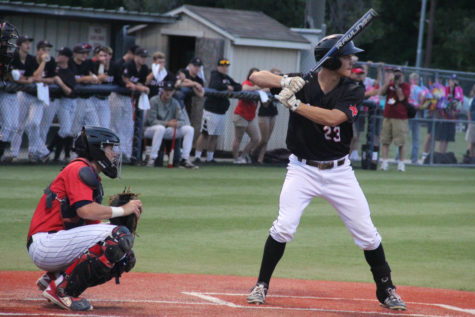 "We bounced back from our second loss this season very well," Gaither said. "It lit a fire underneath us and we came out there with an intent to come back."
After a rough outing Thursday night, Gaither more than redeemed himself both at the plate and on the mound, throwing six innings, and only allowing one run.
"I made a few mistakes last game that probably cost us the game," Gaither said. "I was very happy that I had a chance to come out and make up for that."
Gaither's comeback was not only recognized by his team, who came out jumping and yelling after his lead-solidifying swing, but by Coppell coach Kendall Clark as well.
"Ray was really good," Clark said. "He was dominant, all of his pitches working, that's what we expected last night, we just didn't get it last night, but we got it tonight."
Defensively, Coppell held McKinney Boyd without a run for five innings thanks to great outfield play and clean throws to first.
Coppell was able to build its lead to nine runs in the sixth inning, with strong at bats from Cody Masters and Austin Gross.
"We went good at bats the whole night, kept constant pressure on them, offensively we were really pressuring them," Clark said. "I think [Saturday] they will be focused also, they know what's on the line. I really expect them to come in focused just like tonight. It's really going to be a tough out."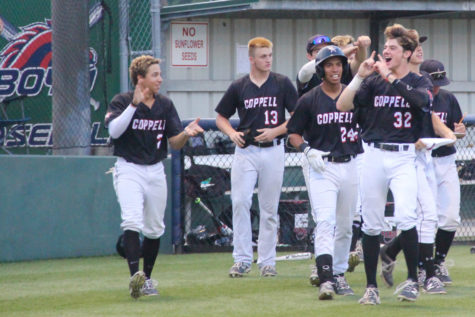 Clark hopes pitcher Charles King can continue the team's momentum into the rubber match on Saturday.
"I hope Charles King goes and throws just like Ray did," Clark said. "If he holds them all to one for six innings we're going to be ahead again, and then we'll finish them off with either Kodros or Burdine."